12 killed in suspected suicide bomb attack on Tunisian presidential guard bus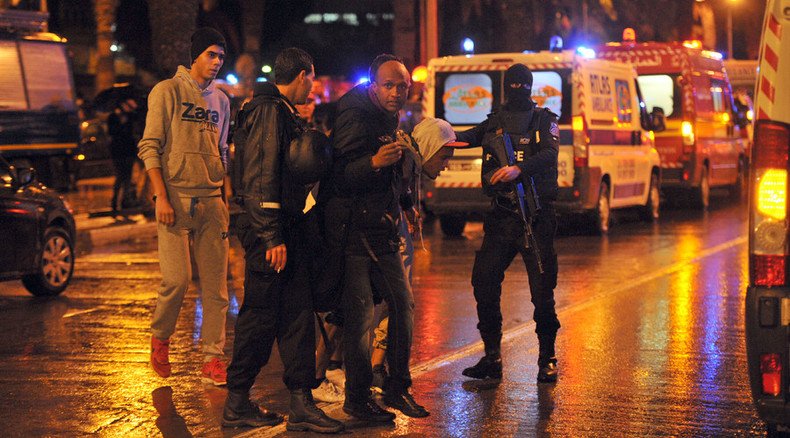 Tunisia has declared a 30-day state of emergency and introduced a curfew after a suspected suicide bomb attack on a bus carrying presidential guard staff left at least a dozen people dead.
The country's president, Beji Caid Essebsi, was not with the guard when the attack took place at the bus stop where the presidential staff board their transport.
It remains unclear what caused the blast near the former headquarters of the Socialist Destourian Party of deposed President Zine El Abidine Ben Ali.
One source told Reuters that it was most likely that a bomber had detonated an explosive device. Another source told Bloomberg that the explosion in the center of Tunis, on Avenue Mohamed V, was most likely carried out by a suicide bomber who had managed to sneak onto the bus.
A security source at the site meanwhile told the AFP that "most of the agents who were on the bus are dead."
The ministry of interior labeled the explosion a terrorist act but no group has yet claimed the responsibility. The ministry said that at least 12 people had been killed because of explosion, with ministry spokesman, Walid Louguini, telling Associated Press that at least another 16 people had been wounded in the attack.
Tunisia's President issued a nationwide state of emergency and has introduced a curfew.
"As a result of this painful event, this great tragedy... I proclaim a state of emergency for 30 days under the terms of law, and a curfew in greater Tunis from 9:00 pm (8:00pm GMT) until 5:00 am (4:00am GMT) tomorrow," he said in a televised address.
Essebsi added that the country is at "war against terrorism," adding that he wants to "reassure the Tunisian people that we will vanquish terrorism."
Tunisia was the first country in the wider Middle East that kick-started the so-called Arab Spring in 2011, ousting the country's longtime leader Zine Abidine Ben Ali.
But threat from extremists because of its geographical location and close proximity to Libya is still rampant in Tunisia, a country which is operating under a new constitution following the 2014 elections.
Yet terrorist activity is high in the North African State. In June, an Islamic State gunmen killed 38 European tourists at a beach resort hotel. In March this year, an attack on Tunisia's national museum killed 22 people.
The attack in Tunis comes amid a high security alert across Europe following the deadly Paris attacks on November 13 that left 130 people dead.


You can share this story on social media: