Russia deploys missile cruiser off Syria coast, ordered to destroy any target posing danger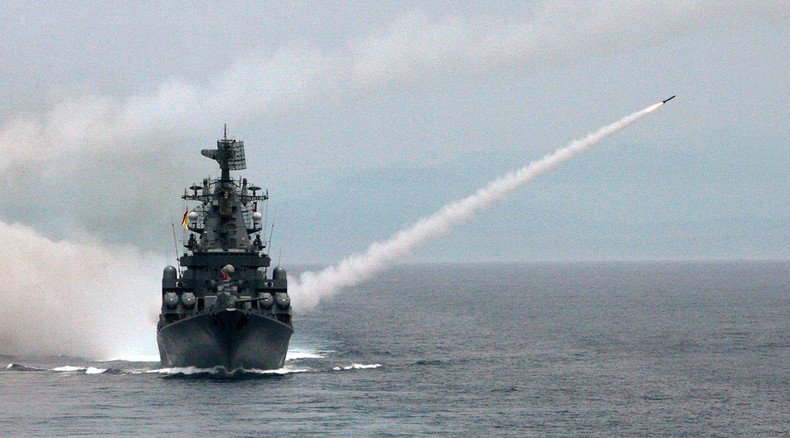 Moscow plans to suspend military cooperation with Ankara after the downing of a Russian bomber by Turkish air forces, Russian General Staff representatives said on Tuesday. Further measures to beef up Russian air base security in Syria will also be taken.
Three steps as announced by top brass:
Each and every strike groups' operation is to be carried out under the guise of fighter jets
Air defense to be boosted with the deployment of Moskva guided missile cruiser off Latakia coast with an aim to destroy any target that may pose danger
Military contacts with Turkey to be suspended
Follow LIVE UPDATES on Russian warplane shot down at Syria-Turkey border
Sergey Rudskoy, a top official with the Russian General Staff, condemned the attack on the Russian bomber in Syrian airspace by a Turkish fighter jet as "a severe violation of international law". He stressed that the Su-24 was downed over the Syrian territory. The crash site was four kilometers away from the Turkish border, he said.

Rudskoy said the Russian warplane did not violate Turkish airspace. Additionally, according to the Hmeymim airfield radar, it was the Turkish fighter jet that actually entered Syrian airspace as it attacked the Russian bomber.
#SYRIA#MoDprotest Efforts of Rus MoD specialists to organize coopertion with Turkish party by emergency communiction link were unsuccessful

— Минобороны России (@mod_russia) November 24, 2015

The Turkish fighter jet made no attempts to contact Russian pilots before attacking the bomber, Rudskoy added.
"We assume the strike was carried out with a close range missile with an infra-red seeker," Rudskoy said. "The Turkish jet made no attempts to communicate or establish visual contact with our crew that our equipment would have registered. The Su-24 was hit by a missile over Syria's territory."
Russia now plans to implement new measures aimed at strengthening the security of the country's air base in Syria and in particular to bolster air defense.
Russian guided missile cruiser Moskva, equipped with the 'Fort' air defense system, similar to the S-300, will be deployed off Latakia province's coast.
"We warn that every target posing a potential threat will be destroyed," lieutenant general Sergey Rudskoy said during the briefing.
The Moskva ('Moscow') missile cruise is a flagship vessel of the Russian Black Sea fleet and is one of the fleet's two biggest ships. The cruiser was stationed in Sevastopol but left in summer 2015 after being deployed to the Mediterranean Sea where it joined Russia's standing naval force in the Mediterranean.
Since September 30, the Moskva cruiser acts as a covering force for the Russian air forces in Syria while deployed in the eastern Mediterranean.
"All military contacts with Turkey will be suspended," Rudskoy added.
Turkey claims that it downed the Russian bomber in Turkish airspace after the plane was given 10 warnings in the space of five minutes as it approached the country's territory.
"Nobody should doubt that we made our best efforts to avoid this latest incident. But everyone should respect the right of Turkey to defend its borders," Turkish President Tayyip Erdogan said in a speech in Ankara.
"The data we have is very clear. There were two planes approaching our border, we warned them as they were getting too close," another senior Turkish official told Reuters.
"Our findings show clearly that Turkish air space was violated multiple times. And they violated it knowingly."
US President Barack Obama and his French counterpart Francois Hollande urged Russia and Turkey away from further escalation during a meeting in Washington, while NATO Secretary-General Jens Stoltenberg voiced the alliance's support for Turkey.

A US military spokesman also said that the incident involves only Turkey and Russia and does not affect the US-led campaign in Syria, which will continue "as planned".
LISTEN MORE:
You can share this story on social media: