Scuffles as pro-refugee demo in Paris defies protest ban (VIDEO)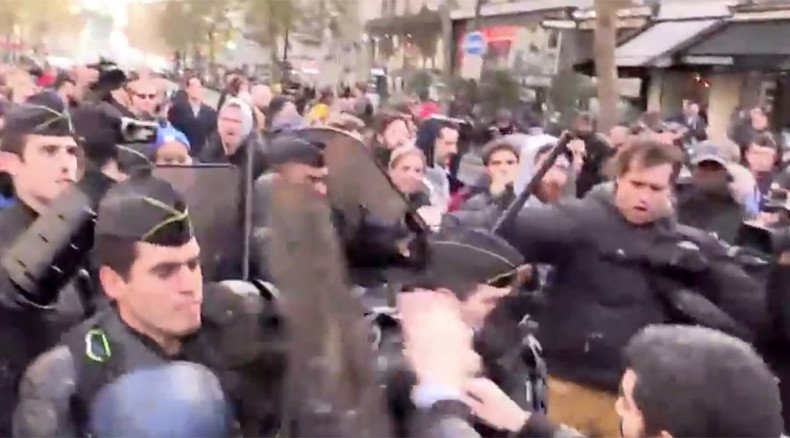 A pro-refugee protest in the French capital briefly turned violent as police scuffled with demonstrators who had broken the government's state of emergency ban on assemblies imposed in the wake of the deadly terrorist attacks.
The Paris protest ended with riot police using pepper spray and batons against hundreds of pro-refugee demonstrators who marched from the Bastille to the Place de la Republique despite a ban on protests imposed by the French government on November 22.

Local police notified the organizer that if the rally wasn't canceled, they could face up to six months in prison. However, the warning was issued in vain.

The rally started from behind the Bastille, and scuffles broke out as some of the protesters made their way to the Place de la Republique, which was soon blocked by a large number of police.

The protesters still managed to break through barriers and proceeded to the square, which is a traditional spot for rallies in Paris.


The ban, imposed after 130 people were killed and more than 400 were injured in the November 13 terrorist attacks, was set to expire on November 30. Responsibility for the attack was claimed by Islamic State (formerly ISIS/ISIL). At least one key terror suspect, Saleh Abdeslam, is still on the run – with some media reports speculating he is trying to leave Belgium, where he apparently escaped from France, and head to Germany.
At least 87 of the victims were killed after gunmen opened fire during a concert at the Bataclan theatre, taking dozens hostage before detonating suicide bombs. Police stormed the venue, freeing the hostages and killing the attackers. Dozens of other people were killed in attacks at the French national stadium and a string of attacks on popular bars and restaurants.
You can share this story on social media: