6 arrested as Australian anti-Islam and anti-racist groups clash (PHOTOS, VIDEOS)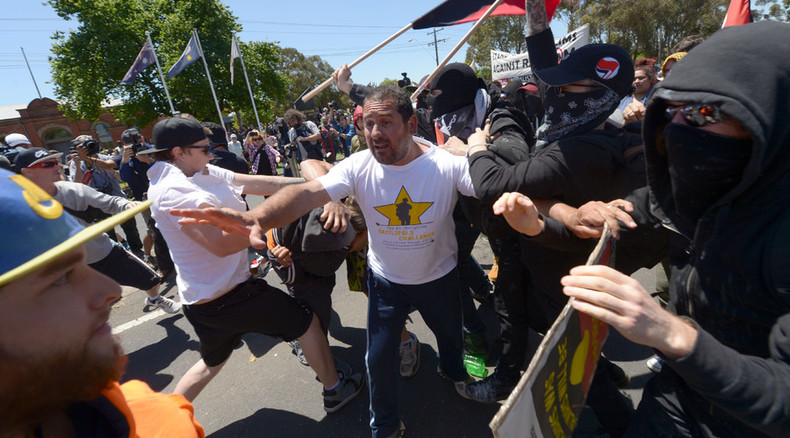 Australian police arrested six people as anti-racist and anti-Islam activists clashed at a Reclaim Australia rally in the southeastern city of Melton. A large contingent of police separated the two groups.
At least 300 people came to the "Reclaim Australia" event at the Melton Civic Centre to speak out against the construction of a mosque in Melton, located just west of Melbourne. People carried signs reading, "Integrate or immigrate."
The rally was organized to protest the decision by the Victorian Civil and Administrative Tribunal (VCAT) that overruled the local council's denial to issue a permit to the Melbourne Islamic Centre to build a mosque in the city.
A counter-rally was held nearby, with demonstrators from the "No Room For Racism" campaign gathering in their hundreds to support the Muslim community. Activists chanted: "Muslims are welcome, racists aren't."
Strong police presence was reported, with officers forming a wall between the two groups.
The situation got heated when scuffles between the groups broke out. Violent protesters were dragged by police from the crowds and arrested.
One man was detained for assaulting a police horse, three people for possession of weapons and two more we were apprehended for other violent acts.
The two groups pushed and shoved each other, as police intervened wearing full body armour.
Some Muslims at the rally reportedly covered their faces out of fear of retribution, according to social media posts.
One protester spoke adamantly about the need for immigrants to assimilate at the Reclaim Australia rally.
"I want my kids to have the same upbringing as I had, I want our kids to be able to sing the national anthem, have Christmas carols at their schools and not have to put up with the hijab," ABC quoted him as saying. "Why do they need to build their own mosque and their own schools when they can send their kids to our schools? They need to assimilate and become a part of us."
Meanwhile, Victoria Premier Daniel Andrews said that freedom of speech and the right to peaceful protest needs to be respected, but not bigotry. "If you are out there peddling hate, you are not a protester, you are just a bigot. It is simple as that," Andrews said.