26yo would-be jihadist 'did not blow herself up in Paris raid' – police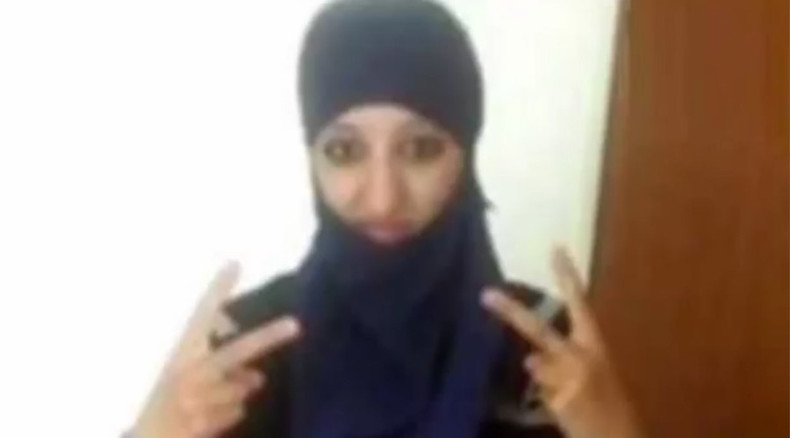 Hasna Aitboulahcen, dubbed "Europe's first female suicide bomber" after she was initially thought to have blown herself up during the Saint-Denis gun siege, was actually killed when another member of the terrorist cell let off a bomb, according to a French police source.
It was initially believed that the 26-year-old would-be jihadist died when she let off her explosive vest at a flat in the suburb of Paris during a police raid on Wednesday morning.
A police source told AFP, however, that Aitboulahcen did not die in a suicide bombing, but because another member of the jihadist cell, previously unaccounted for, detonated a bomb when a group of armed French officers attempted to storm the property in the north suburb of Paris.
According to the police source, the person who set off the bomb was a man, not a woman. The force of the explosion appeared to be so powerful it blew the woman's head off and into the street, an amateur recording and a police account revealed. No one else appeared to have been hurt by the blast.

As scores of France's RAID special police unit surrounded the house in the suburb of Saint-Denis, Aitboulahcen was there with her cousin Abdelhamid Abaaoud, the suspected mastermind behind the November 13 Paris attacks, which killed 130 people. Aitboulahcen was suspected of assisting the bloody attacks. French investigation sources told Reuters that she and her accomplices were about to launch another attack – this time on Paris's La Defense financial district.
The seven-hour siege, which was covered live by the world's media, was over in two hours after the bomb went off, with Abaaoud killed (riddled with bullets and torn apart by grenades) and eight of his suspected accomplices arrested. It is likely that Hasna inadvertently led the police to the terrorists' doorstep, as intelligence services reportedly intercepted her online chatter prior to the siege.

Investigators are looking to identify what prompted the woman, who was brought up in relative stability by a foster family and attended university, down the path of terrorism.

According to Aitboulahcen's brother, who didn't want to give his name, Hasna had suddenly become radicalised about half a year ago.

"She started by wearing a jilbab [a long garment which covers the whole body except for the face) and then she moved on to the niqab [full-face veil]," he told AFP.

"She was unstable, she created her own bubble. She wasn't looking to study religion, I have never even seen her open a Koran," he added.
You can share this story on social media: