ISIS could be used to reignite extremism in Russia; Syria strikes aim to prevent this – official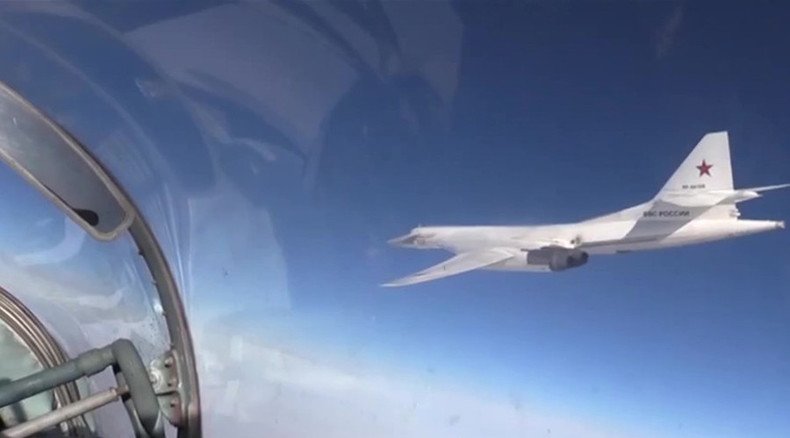 The Russian Foreign Ministry believes that Islamic State could be used to "aggravate the situation in Russia," a department head told Kommersant. He also questioned the aim of US-led strikes in Syria, which had spared IS oil trade until Russia intervened.
"All of the threats targeting Russia's security are taken seriously," the head of the Russian Foreign Ministry's Department for New Challenges and Threats, Ilya Rogachev, said in an interview with the Kommersant newspaper.
"Today there is a possibility of renewed attempts to aggravate the situation in Russia with the help of ISIL [Islamic State, IS/ISIS]," he stressed, noting that the Russian Security Service has been actively addressing the potential threat.
Rogachev stressed that Russia's airstrikes in Syria are aimed at containing the terrorists pre-emptively – before Islamic State militants "come knocking at our door." He also stressed that Russia's fight against terrorism in the North Caucasus region is "the only successful example of its kind" resulting in a population being "successful de-radicalized."
"We need to carve out this cancer while it has 'only' consumed half of Syria and nearly half of Iraq," the official stressed.
Russia has been conducting dozens of sorties against Islamic State and other extremist targets in Syria on a daily basis since September 30 after an official request was made by President Bashar Assad.
It is possible that the terrorist attack on the Russian A321 plane in Sinai, Egypt, which killed 224 people, was carried out by IS as "revenge" for Russia's fight against terrorism in Syria, Rogachev said. The US has passed along certain information to Russia about the crash that is currently being investigated, according to the foreign ministry official.
"As far as I know, the American partners have passed to us certain information about the plane, and the competent agencies are working with it," he said. "The circumstances of this tragedy are constantly being discussed at different levels with the British side."
'US rushed to strike ISIS oil network only after Russia intervened'
Commenting on the effectiveness of the US-led coalition's efforts to fight IS in Syria thus far, Rogachev stressed that, despite an air campaign lasting over a year, their airstrikes had caused almost no damage to oil fields controlled by IS. "There were almost 8,000 military flights. Almost quarter of the time the jets came back without striking, taken to mean that they found no targets to attack. Meanwhile, ISIL continued to receive oil … thousands of tanker trucks drove all across the region."
Rogachev noted that Russia has been calling on UN member-states to adhere to UN Security Council Resolution 2199, which calls for strong opposition to illegal oil trade by terrorist groups, adding that "we have not abandoned various attempts to offer certain measures that would urge [UN] states to approach their responsibilities in that respect more thoroughly."
"If one year ago experts were talking about ISIL extracting 30,000 barrels a day, now there is talk of 40,000-50,000 barrels. Meanwhile UN Security Council Resolution 2199 recognizes that illicit oil trade is the main source of ISIL income and obliges all states to oppose it in the strongest terms," Rogachev stated.
On Monday, the US said they had bombed over 100 IS oil trucks – for the first time in a year and following weeks of daily Russian sorties.
"It's impossible not to notice, that even this [US move to bomb IS tankers] was compelled by the decisive and effective actions of the Russian Air Force. Taking [the Russian strikes] into account, one can't help but wonder: has the US-led coalition actually set a task of militarily defeating ISIL?" Rogachev wondered.
Russia's General Staff said on Wednesday that some 500 IS tanker vehicles have been destroyed by Russian bombers over the past few days, resulting in the disruption of the terror group's oil trade.
Rogachev then pointed out that only after Syrian ground troops had begun to make progress against Islamic State did the French take it upon themselves to attack the terrorists' existing Syrian oil infrastructure, citing self-defense after the Paris attacks.
"We cannot support such actions" because they are being done without the approval of the Syrian government, Rogachev said.
READ MORE: No peace can come to Syria without Assad – Lavrov
The Russian official stressed that while targeting terrorist camps could theoretically be tied to self-defense, the French strikes targeting oil infrastructure have nothing to do with that.
Instead, they come as the coalition is expecting the Syrian army to take the oil fields back from Islamic State, demonstrating that as far as France is concerned, both Islamic State and Syrian President Bashar Assad are the enemy, Rogachev concluded.
At the same time, Russian Foreign Minister Sergey Lavrov told Radio Russia on Thursday that Western expectations of Syrian President Bashar Assad's imminent fall were misplaced.
Lavrov stressed that Assad has public support and no peaceful resolution of the conflict is possible without his participation. "All the forecasts made by our colleagues in the West and some other parties that the people would rise up and oust him never came true. This means one thing: Assad represents the interests of a significant part of Syrian society. So no peaceful solution can be found without his participation," he said.
You can share this story on social media: