NATO's Allied Rapid Reaction Corps to test 'simulated' troop deployment near Russian borders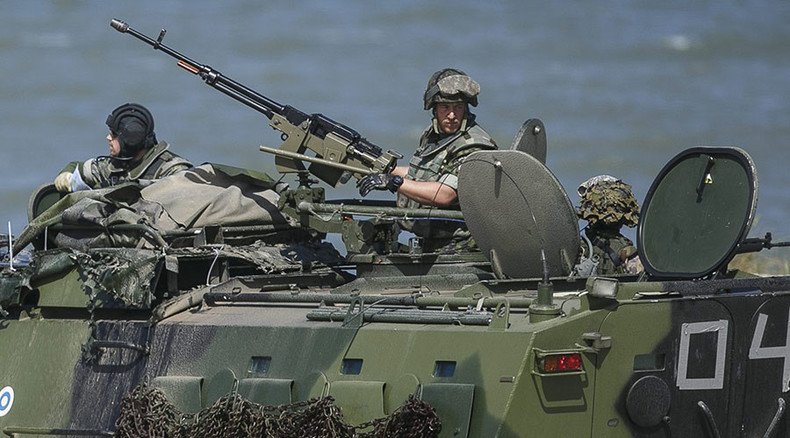 NATO is conducting its first-ever test deployment of troops in the Baltic from a UK-based command center. The simulated build-up close to Russia's borders is aimed at checking the capabilities of the organisation's Allied Rapid Reaction Corps (ARRC) to control large formations 'within a challenging security crisis.'
A large-scale command exercise named Arrcade Fusion 15 (AF15), lasting two weeks and involving over 1,700 troops from 20 NATO countries plus Sweden, is underway in three Baltic states – Estonia, Lithuania and Latvia. AF15 is a command-post exercise by the ARRC, which is based in Gloucestershire, UK. Arrcade Fusion exercises have taken place annually since 1992.
This year the ARRC is deploying its headquarters for the exercises to the Baltics for the first time at Latvia's Lielvarde air base, with elements working concurrently in Lithuania, Estonia and the main HQ in the UK.
Official statements say the scenario for the maneuvers is "fictitious" with "realistic global security threats" played on computers only.
LTG Evans: We're not provocative. We're not threatening. We're focused on assuring the people of #NATO's commitment to support them.

— HQ ARRC (@HQARRC) November 17, 2015
"My aim is to evaluate our deployability, test key emerging concepts that can be used to develop NATO's Very High Readiness Joint Task Force (VJTF), and strengthen our partnership with our allies, especially those in the Baltic region," said Commander of HQ ARRC Lt Gen Tim Evans.
The exact details of the scenario remain undisclosed, though it is known the simulated problems range "from formal military aggression to political decisions, from economic disruption to humanitarian crisis," according to NATO.
READ MORE: 'NATO's a dinosaur in the modern world'
The ARRC can command and control NATO forces ranging from the size of a brigade numbering thousands of troops to a corps of up to 60,000 soldiers. An official video on NATO's YouTube channel adds the ARRC is a "deployable command center" available in case NATO needs "run the world at high readiness", moving troops "on 48-hour notice."
Over the past year, NATO has dramatically increased the number and pace of its military drills across Europe, most intensively near Russia's borders. Earlier in November, the alliance launched massive "Trident Juncture 2015" exercises involving 36,000 troops as well as more than 60 warships and around 200 aircraft from all NATO member states. Seven more partner nations were involved: Australia, Austria, Bosnia and Herzegovina, Finland, Macedonia, Sweden and Ukraine. This made Trident Juncture the biggest drill since 2002, when about 40,000 troops took part in NATO's "Strong Resolve" exercise.
Additionally, to boost what it calls its "deterrence" of Russia, NATO has moved a remarkable amount of heavy weapons including tanks and self-propelled artillery to Baltic states on a "rotational" basis.
Russia's Foreign Ministry has repeatedly criticised NATO's military build-up in neighbouring states, saying it is being carried out "under the false pretext of alleged 'aggressive behavior' by our country" and has been accompanied by "unfriendly and malicious" rhetoric.
You can share this story on social media: