Israeli troops arrest 6yo boy & leading activist at Palestinian refugee camp (VIDEO)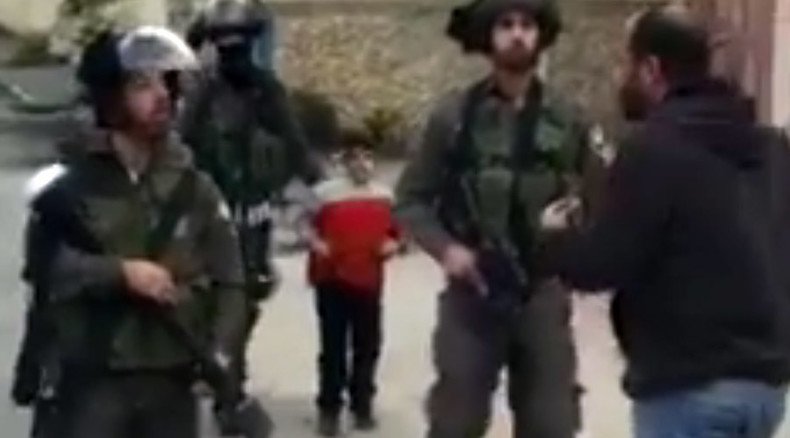 Israeli Defense Forces forcefully detained a six-year-old boy and an activist in the Aida Palestinian refugee camp in the occupied West Bank, according to a new video released by a local activist group.
READ MORE: 'Provocation': Israel outraged over Spain's Netanyahu arrest warrant
The Popular Struggle Coordination Committee published a video showing Israeli forces in full combat gear coming into the Aida refugee camp, located near the West Bank city of Bethlehem, and forcefully detaining two people, including a small boy.
The video starts out with three Israeli troops taking away the six-year-old boy, identified as Abdallah Lutfi Yousef, and dragging him by his arm.
As the leader of the Palestinian Popular Struggle Coordination Committee, Munther Amira, tries to follow them, one of the soldiers starts to yell, while the other soldier continues to take the child away.
Israeli occupation forces arrest of activist, and head of board members, of the Palestinian Popular Struggle Coordination committee, Munther Amira,and 6 year old child,Abdallah Lutfi Yousef.From Aida refugee camp.اعتقال قوات الاحتلال للناشط، ورئيس اللجنة التنسيقية للمقاومة الشعبية منذر عميرة .والطفل عبدالله لطفي يوسف، 6 سنواتمن مخيم عايدة Munther Amira

Posted by Popular Struggle Coordination Committee on Tuesday, November 17, 2015
Then the soldier attacks Amira by grabbing, pushing and shoving him. Shortly after, all three soldiers get involved in the scuffle, restraining the activist and then forcefully arresting him.
The video ends with both Amira and Yousef in Israeli detention.
Residents of the camp reportedly tried to get the boy released, but the Israeli army said that Yousef tried to assault a soldier. The boy was transferred to a military camp in northern Bethlehem, according to local media. Eventually, the Israelis freed Yousef, following hours of detention.
However, Amira is still being detained in an unknown location.
Violence across Israel, Jerusalem and the West Bank has been intensifying, with the number of stabbing attacks on Israelis by Palestinians on the rise. At least 12 Israeli citizens were killed by Palestinians. Meanwhile, the death toll for the Palestinian side is nearing 70 people shot in response by Israeli security forces.
The conflict has escalated as Palestinians fear that they could be banned from praying at the Al-Aqsa mosque. The mosque is considered the third holiest site in Islam and is also revered by Jews as the Temple Mount and the most sacred place in Judaism.
Under current arrangements, Jews are allowed to visit the site, but non-Muslim prayers are banned.
In October, Israel reintroduced a ban barring Muslim worshipers under 50 from entering the mosque for Friday prayers. The move was announced by Israeli police as part of broader measures focused on tightening security in the Old City.
READ MORE: Israel suspends meetings with EU after Brussels' move to label settlement products
You can share this story on social media: