Deadliest high-profile terrorist attacks in Russia (PHOTOS)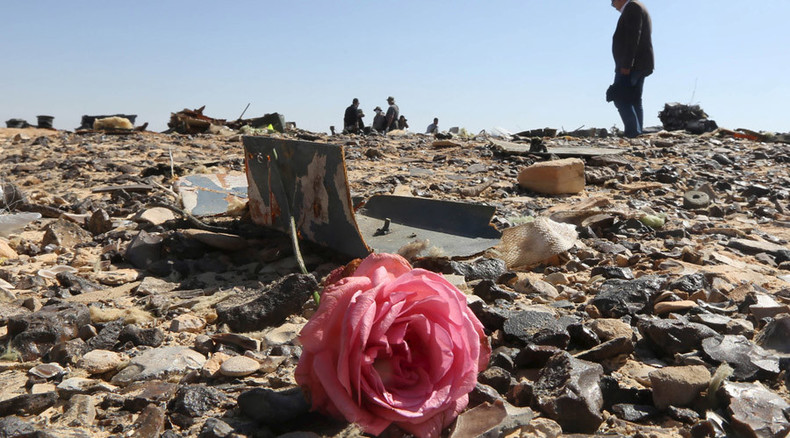 As the crash of a Russian passenger plane in Egypt is confirmed to have been a terrorist bombing, RT takes a look at the tragic record of terrorist attacks in modern Russia.
Russia has been dealing with international terrorism for decades, since foreign sponsors, preachers and militants hijacked a nationalist-separatist insurgency in Chechnya and turned it into an Islamist terrorism project. The terrorist threat today is as high as ever, as extremists pick their targets globally, from Lebanon to Russia and France.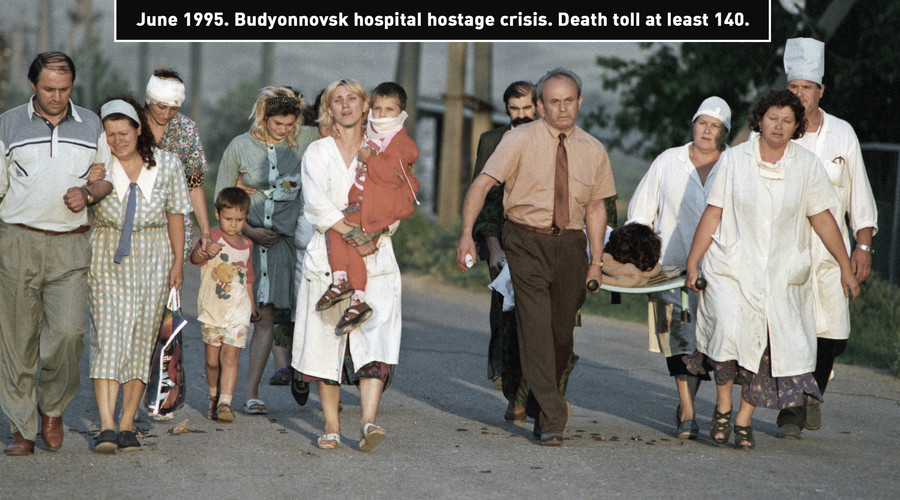 The worst overspill of Chechen violence came as terrorist leader Shamil Basayev led a militant group of about 200 fighters to take over the city of Budyonnovsk in Stavropol region. The group took 1,600 hostages in a hospital and demanded that Russia withdraw troops from the Chechen Republic. The failed siege of the hospital was one of the worst blunders in the history of the Russian security services.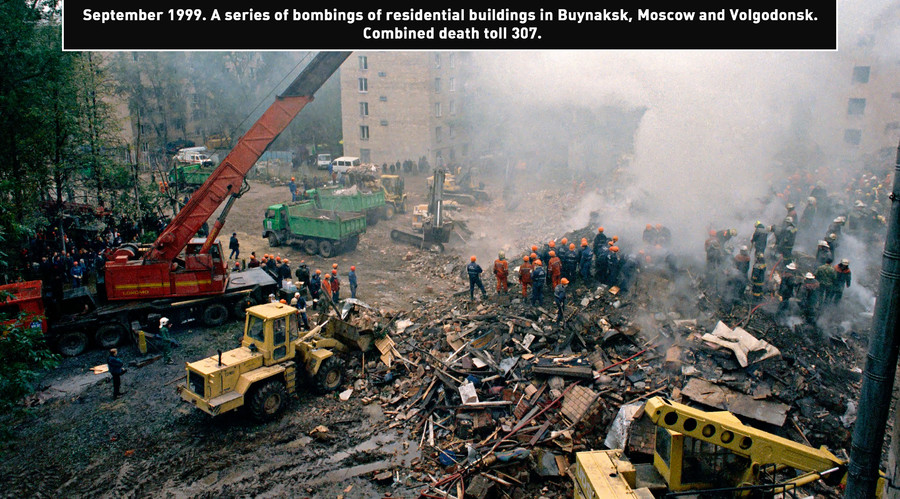 The turning point in Moscow's policy towards its volatile Chechen region. In August, Chechen militants had invaded neighboring Dagestan, prompting a response from the Russian military. After a month of hostilities, the Chechens, who were de facto independent from Moscow at the time, attacked civilians in three cities to sway public opinion against the reignited military campaign.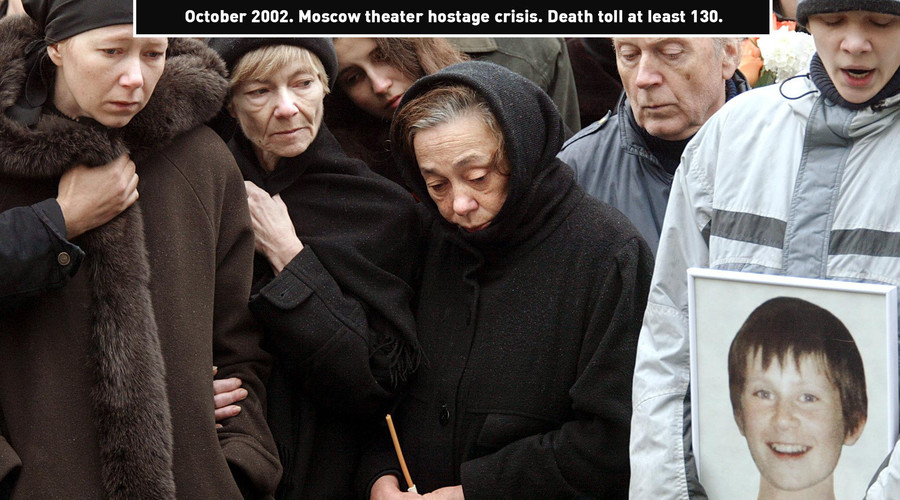 A group of 40 terrorists took 916 guests and staff members hostage in a theater staging the popular musical 'Nord Ost'. A three-day stand-off ended with a rescue attempt, during which security forces used powerful knock-out gas to ensure the terrorist didn't trigger bombs and blow up the building. The gas and ensuing turmoil during the evacuation of unconscious hostages was blamed for many fatalities.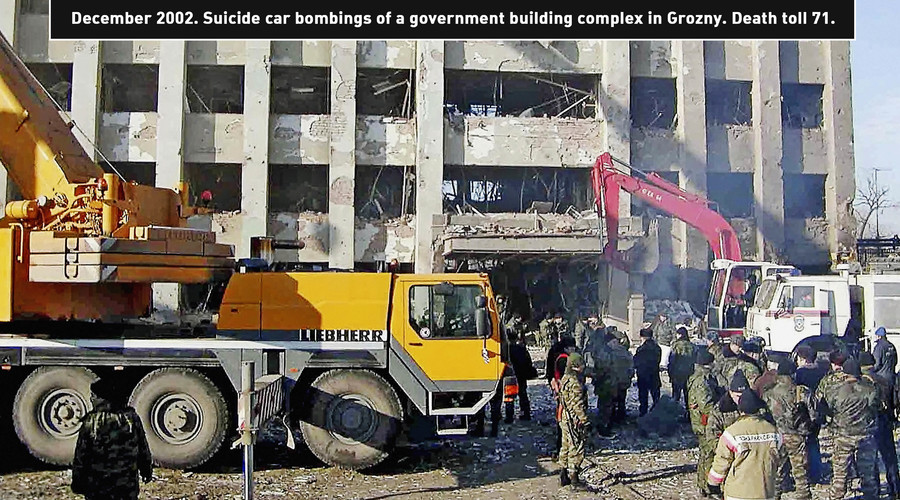 Ousted from power, Chechen militants for years continued attacks on police officers and officials in the republic. Their single biggest "success" was the attack on a government building complex in the Chechen capital Grozny. Three suicide bombers, including a teenage girl, drove two trucks rigged with explosives into the building and detonated simultaneously.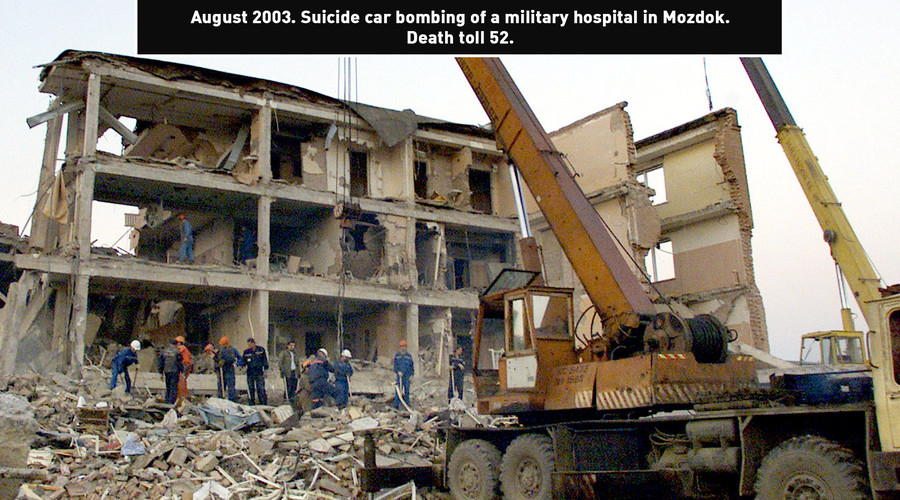 One of the worst tragedies in North Ossetia happened when a truck loaded with 10 tons of home-made explosives ran through the closed gates of a military hospital in the capital Mozdok and blew up next to the main building. The explosion killed one third of the recovering soldiers and hospital staff present at the time.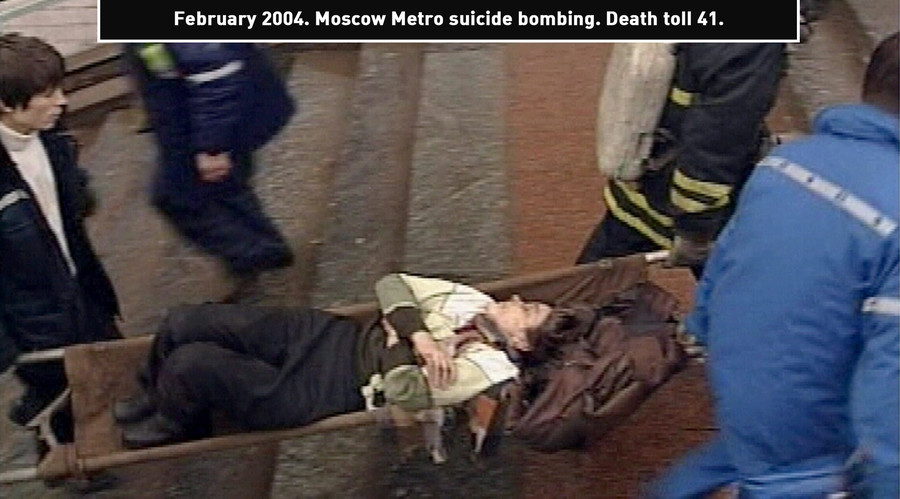 The Moscow Metro transit system with its tens of thousands of commuters is an attractive target for terrorists and has been attacked on several occasions. The 2004 bombing was the deadliest. It involved one suicide bomber and prompted the creation of an integrated CCTV system in the Metro.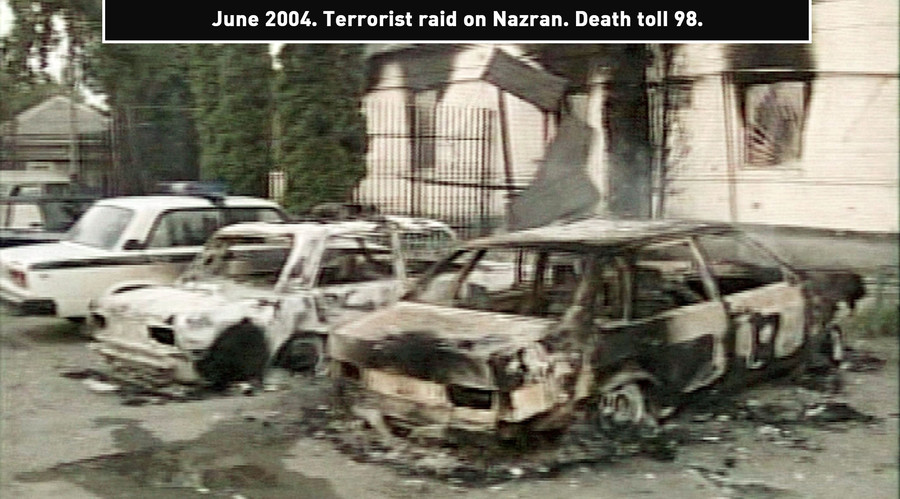 A five-hour overnight raid of Chechen and Ingush militants happened in Ingushetia's largest city, Nazran. In addition to attacking 15 separate government and security offices, the militants, who were wearing stolen uniforms, established roadblocks and checked the documents of everyone passing through. Those identified as officials were killed on the spot.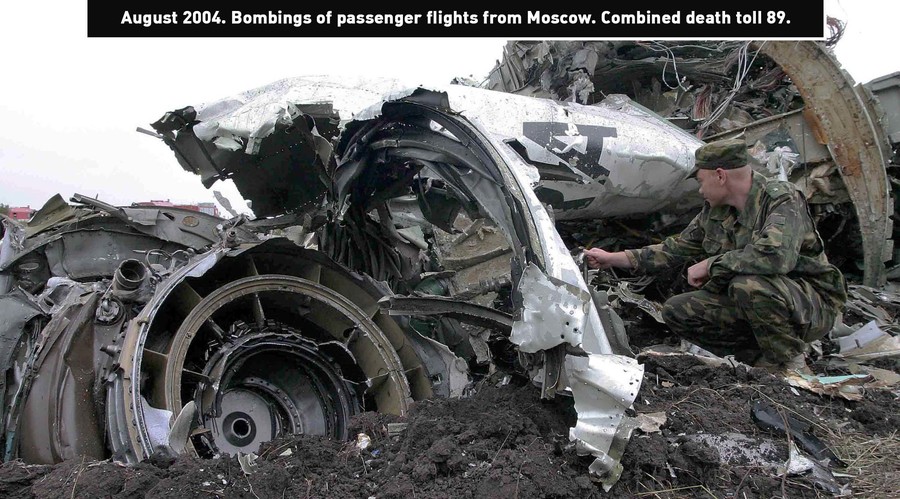 Another high-profile attack in what was Russia's worst year in terms of terrorist attacks was the twin bombing of passenger planes. Two flights from Moscow to Volgograd and Sochi were taken down by two female suicide bombers. The tragedy exposed gross negligence and bribery at Moscow's Domodedovo airport at the time, which allowed the bombers get on board without a security check or even showing their IDs.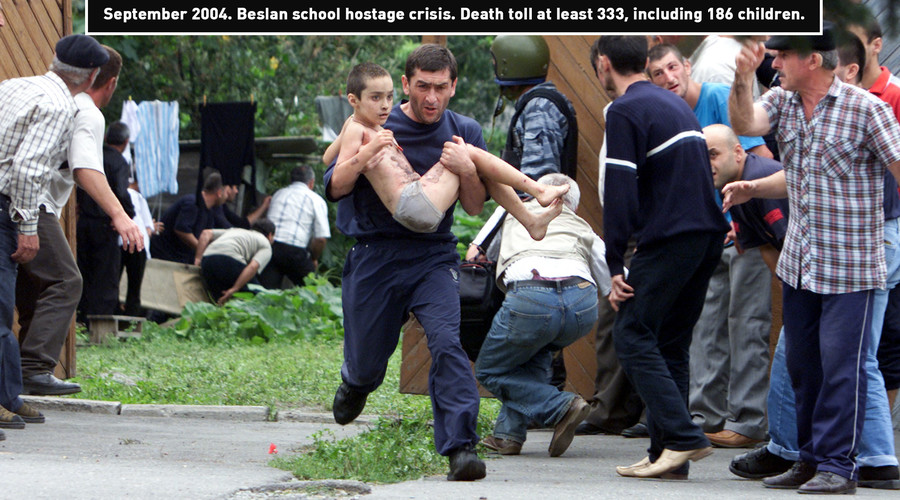 The most tragic episode of Russia's confrontation with terrorism came when a group of heavily armed terrorists took hostage 1,128 civilians, many of them children, at a school in Beslan, North Ossetia. After the bloodbath Russia gave more powers to law enforcement and security agencies.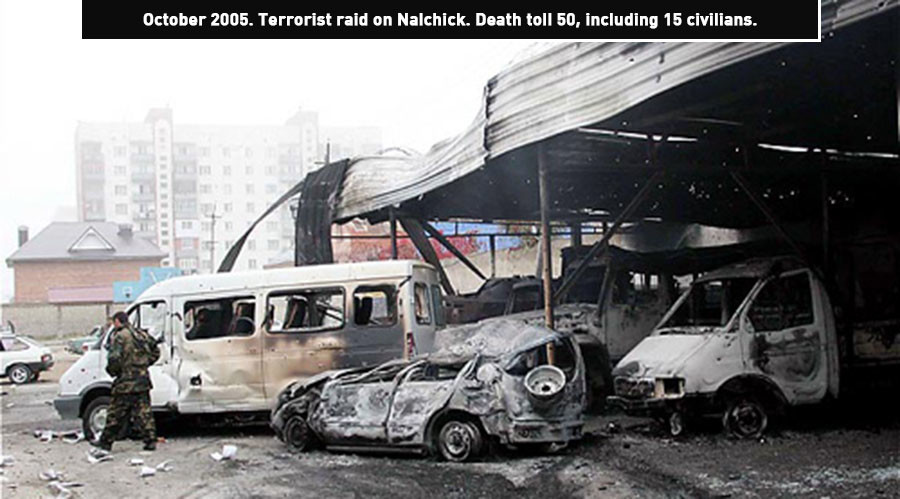 The raid on Nalchik, the capital of Kabardino-Balkar Republic, was a massive militant operation that involved up to 300 fighters, according to some estimates. Almost a hundred of them were killed in gunfights. The raid was somewhat crippled before it started when security forces intercepted one of the infiltrating groups of militants and seized large amounts of explosives intended for use later in the attack.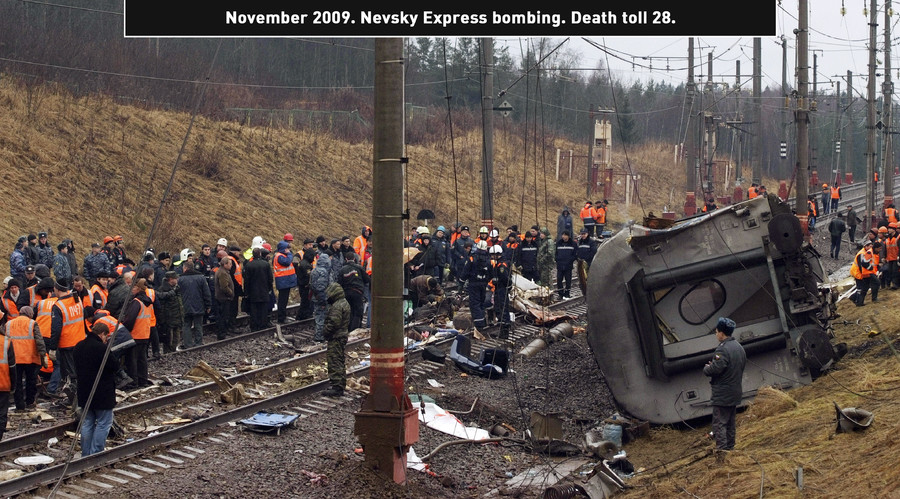 Terrorists have targeted the Nevsky Express train that connects Moscow and St. Petersburg twice. The first attempt in 2007 resulted in a train derailing, but miraculously no fatalities. The attack in 2009 was deadly, killing 28 people. It was also marked by an unsuccessful attempt to kill one of the senior crime scene investigators, when a second radio-triggered bomb detonated at the scene.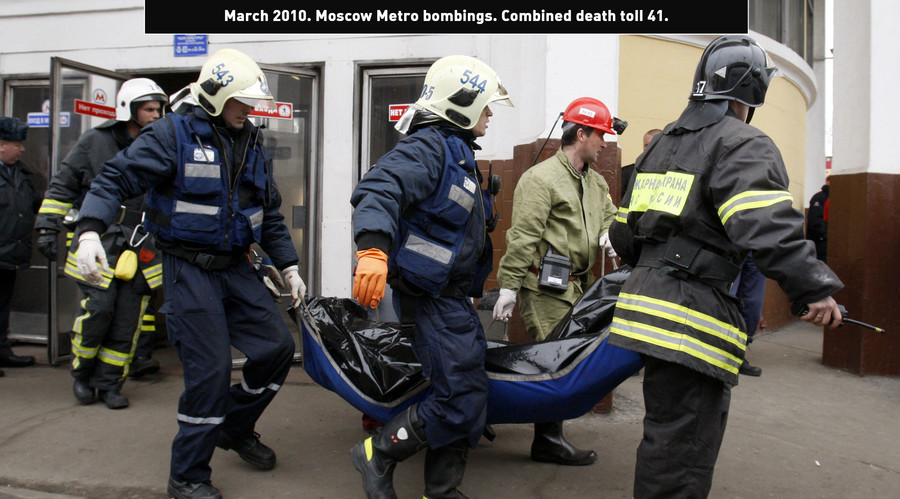 The second-bloodiest attack in the Moscow Metro involved two suicide bombers, who set off their bombs 30 minutes apart on two different trains. It was the first high-profile terrorist attack in Russia covered extensively on social media – accompanied by many rumors about additional bombings that later proved to be false.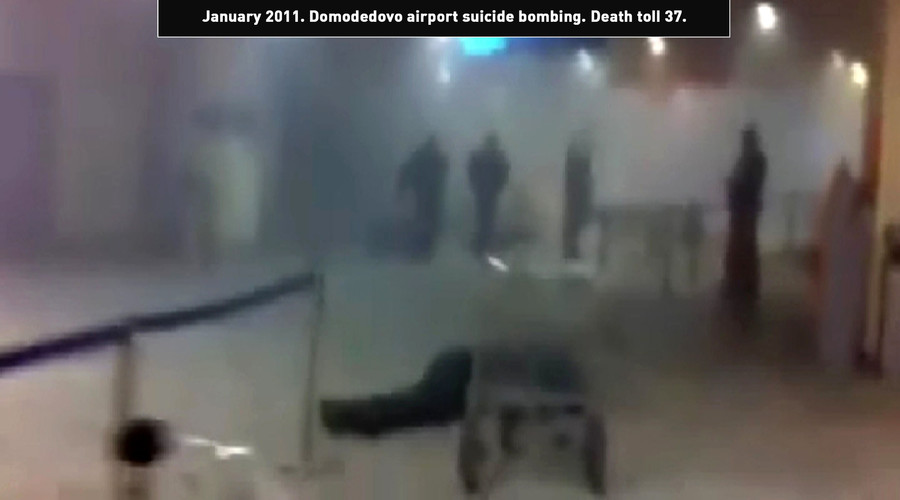 A suicide bomber targeted the international departure hall at Moscow's Domodedovo airport. Citizens of 13 countries, including Russia, were among the victims.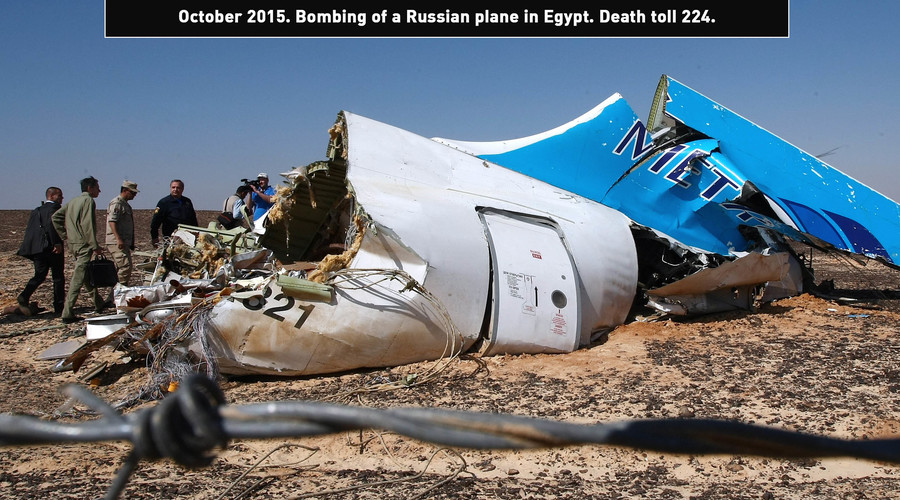 A bomb planted on board a Russian passenger plane returning from Egypt killed 224 passengers and crew members. It was the deadliest air incident in Russian history and one of the deadliest terrorist attacks.