Mongolian trade unionist burns himself alive in a shocking act of protest (VIDEO)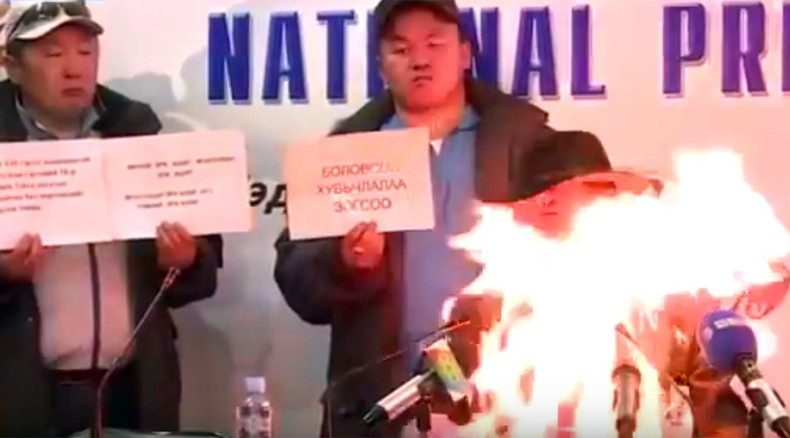 Shocking footage shows a trade union leader setting himself alight to protest the looming sale of Mongolian coal mines to Chinese companies. The act of defiance took place at a press conference called to describe the hardships faced by the country's miners.
In the footage posted by the Daily Mail, the union leader is seen taking a seat and at the press conference surrounded by fellow union members. He then makes a short public statement: "The government no longer supports our company, families of the workers are forced to starve, this is why I will burn myself for the people of Mongolia and our children."
A split second later, the speaker appears to burst into flame. In the terrifying moment that follows, screams can be heard as his companions rip off their jackets and immediately start beating the engulfing flames from the man, who has fallen, agonizing, to the floor. The blaze was finally suppressed with a fire extinguisher.
WARNING: GRAPHIC FOOTAGE
The union leader who committed the horrifying protest act, S.Erdene, is head of the Solidarity Trade Union at Erdenes TT, located in southern Mongolia, according to local media. The company, which runs one of the largest untapped coking and thermal coal deposits in the world, has total reserves estimated at 6.4 billion tons, of which 25 percent is high quality coal.
In October, the leadership of Erdenes TT decided to transfer 203 workers from one mine to TTJV Co, a Chinese company formally registered in Singapore. S.Erdene said that the agreement between Erdenes TT and TTJV has left Mongolians without jobs and that the agreement had been written in English to confuse miners about its content.
Unionists fear the sale to China could make things even worse, as the Chinese could bring in their own staff to operate the mines.