Russia's only aircraft carrier, Admiral Kuznetsov, towed during storm (VIDEO)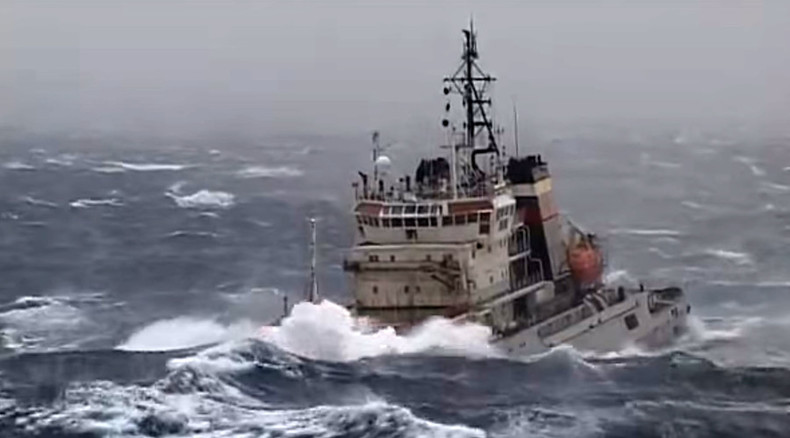 A video of the Russian rescue tug boat towing the aircraft carrier Admiral Kuznetsov in stormy weather has resurfaced online.
The clip was allegedly taken sometime around February 2012 in the Bay of Biscay, when Russia's only aircraft carrier "fully lost propulsion," the description claims.
The Admiral Kuznetsov at the time was returning from a Mediterranean voyage and the tug Nikolay Chiker shown in the video was part of the flotilla.
The voyage included training exercises for the ship's crew and the pilots of the fighter jets deployed on the carrier. It was not immediately clear whether the video shows training in tug operations in unfavorable weather conditions – or the result of an actual failure on the Admiral Kuznetsov. The ship had its share of problems during its years of operation, but no such malfunction was reported during the 2012 voyage.
READ MORE: Sea alert: Russian warships head for Syria
The video itself first surfaced in an unverified form in July 2014 on the popular Russian social media network VKontakte, but didn't make it to YouTube until this month.
Nikolay Chiker and her sister-ship Fotiy Krylov were built for the Russian Navy by Finland's Hollming shipyard. In addition to powerful engines needed for tugging other ships, they have equipment needed for underwater operations, including a diving chamber, firefighting equipment, a medical bay with its own surgery and a helicopter pad.