Belgian police fail to detain Paris attack 'organizer' in 4-hour raid of Brussels' 'jihadist hotbed'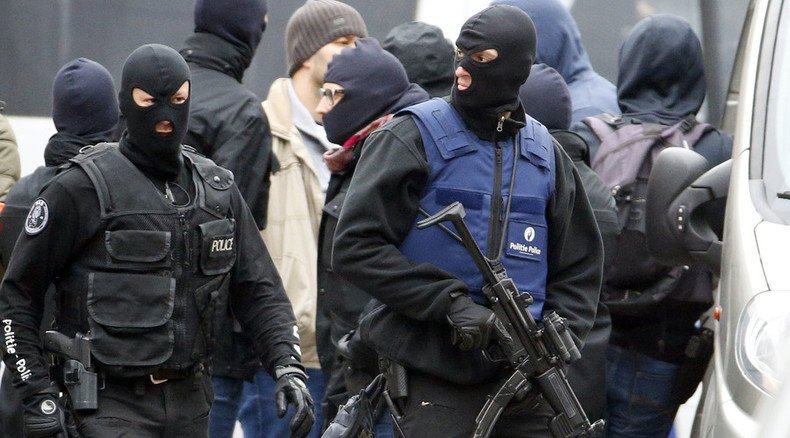 Belgian police did not succeed in detaining Salah Abdeslam, a key suspect in the Paris attacks, during a manhunt in a suburb of Brussels, contrary to previous reports that he had been arrested. Authorities have charged two men arrested earlier with terrorism.
An eyewitness told RT by phone that residents of the impoverished Molenbeek district in Brussels were told to stay inside Monday morning as "scores" of police scoured the area, while entire streets were sealed off with tape and fire trucks.
Media footage showed armed special unit officers climbing the rooftops to the apartments inhabited by Abdeslam and his brothers, and several flash bangs were reported.
But despite premature media reports claiming Abdeslam had been detained, prosecutors said that they obtained "no evidence" and made no arrests.
Officials earlier said that the Belgian-born 26 year-old rented a black VW Polo used to ferry older brother Ibrahim Abdeslam to the Bataclan music club in Paris on Friday, the site of the bloodiest in a series of attacks that have killed more than 130 people, with over 30 more remaining in critical condition. Ibrahim Abdeslam blew himself up after running out of ammunition, as he gunned down hostages inside the venue.
French officials have told the media that Salah Abdeslam was stopped in the hours following the attack, but was let go, just minutes before police sent out his details, after finding the abandoned VW Polo in central Paris.
A third brother, Mohamed Abdeslam, was among seven suspects arrested by Belgian police on Saturday. He has been released after police found out that he had a "cast-iron" alibi for the duration of the Paris attacks.
"He didn't make the same life choices as his brothers," his lawyer told RTL, a French radio station, upon Mohamed's release.
The other two have been charged "with a terrorist act and participation in the activities of a terrorist group," though it is not clear if they played a direct part in Friday's massacres.
Molenbeek, an area of 100,000 where a quarter of the inhabitants do not possess Belgian citizenship and many more are second and third-generation immigrants, has been plagued by gangs and extremism.
It is thought that the weapons used in the January shooting at the satirical magazine Charlie Hebdo came through the area, and Molenbeek has provided more recruits for Islamic State per capita than any other place in Europe.
In the wake of the attacks, Belgian Prime Minister Charles Michel called the suburb a "gigantic problem" and said that rooting it out may require "more repression" and "not just prevention."
READ MORE: Mastermind behind Paris attacks identified as active ISIS executioner from Belgium
Abdelhamid Abaaoud, who has been named by French intelligence as the likely mastermind of the Paris plot, was from Molenbeek.
Abaaoud, a Belgian by nationality whose family is originally from Morocco, has already been sentenced to 20 years in prison in absentia for his role in recruiting terrorists, and is currently thought to be in Syria.
LISTEN MORE:
You can share this story on social media: