'So happy to see my friend': Former spacemen Aldrin & Leonov reunite in Switzerland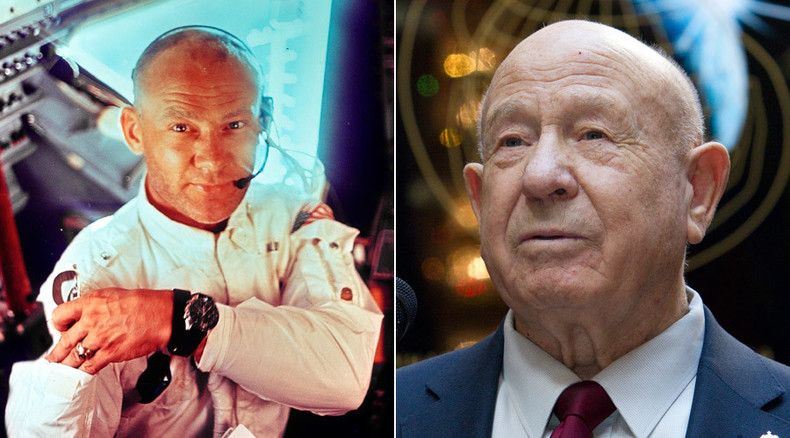 Heroes of their time, they hailed from rival countries during the Space Race. But despite it all, the two men became friends through their love of space exploration. Now US astronaut Buzz Aldrin and Russian cosmonaut Alexey Leonov have reunited.
Some might call it an unlikely friendship. After all, their tenure as spacemen occurred during a turbulent time between the US and the Soviet Union, as both nations raced to become the leader in spaceflight capability.
READ MORE: ​'Every spacewalk is unique challenge': Pioneer Leonov at #AskaCosmonaut Q&A
But when you're one of just a few people in the world to enter orbit and courageously leave the confines of a spacecraft to explore the unknown, you share a certain bond that is seemingly unbreakable – regardless of which country you call home.
That bond was strengthened on Thursday, when Aldrin and Leonov met up in Switzerland. The meeting between the two veteran space explorers was made possible by SWISSAPOLLO, which invited both men to speak at its event titled 'The Moon Race.'
It was a happy reunion for the two spacemen, with Buzz Aldrin tweeting about the meeting on Thursday.
Aldrin and Leonov – now aged 85 and 81, respectively – seemed to have picked up right where they left off. A tweet by Aldrin referred to a vodka-based joke made to Leonov.
According to the SWISSAPOLLO organization, 'The Moon Race' is aimed at having the men "share their experiences" of the Space Race, which pitted the US and the Soviet Union against each other in the 1960s. The event is taking place in Lausanne on Thursday evening.
READ MORE: Record-holding Russian cosmonaut takes 'out of this world' space selfie
Leonov made history on March 18, 1965 when he exited the Voskhod 2 spacecraft and became the first man to walk in space. He was out of the capsule for 12 minutes. A decade later, he flew aboard the Soyuz 19 spacecraft for the Apollo-Soyuz flight – the first collaboration between the Soviet Union and the US, in which crews conducted experiments together.
Aldrin made headlines of his own on July 20, 1969, piloting the lunar module during NASA's Apollo 11 mission – the first moon landing in history. Aldrin was the second person to walk on the moon, strolling its surface for two minutes and 15 seconds. The infamous moment was not Aldrin's first trip into outer space. His first trip was aboard the Gemini 12 spacecraft in 1963.
Although their space days are well behind them, their memories will be retold at the sold-out SWISSAPOLLO event, during which 3,000 people will be lucky enough to learn about the Space Race from those who played leading roles in the historic rivalry.