Dozens of Palestinians injured in clashes on anniversary of Arafat's death (VIDEO)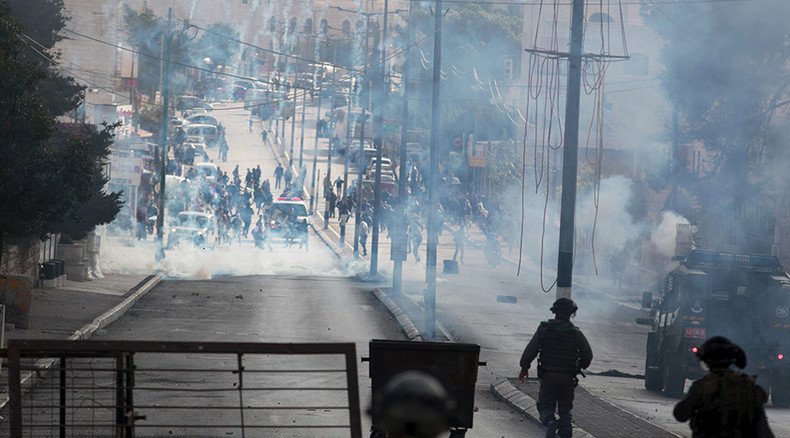 Dozens of Palestinians have been injured in clashes with Israeli forces on the anniversary of former Palestinian leader Yasser Arafat's death. Youths threw stones and burned tires while Israeli security forces responded with tear gas and live bullets.
At least four people were wounded by live ammunition near Ramallah, in Al-Bireh, the Palestinian health ministry said. Another person reportedly remains in a critical condition and is undergoing surgery after being shot in the heart.
Clashes in Al-Bireh erupted after a few hundred Palestinians marched towards Israeli forces, as part of a rally to commemorate Yasser Arafat's life. At some point the youths began throwing stones at the Israeli Defense Forces (IDF), and rolling burning tires towards the security personnel. The IDF responded by firing tear gas and live bullets.
READ MORE: 'Kill on the spot': Poll shows most Israelis support immediate execution for Palestinian attackers
In other clashes in the West Bank, live rounds injured at least six other Palestinians in the city of Tulkarem.
In total, "62 citizens were injured by live ammunition and rubber-coated bullets during clashes with the (Israeli) occupation in Tulkarem, Ramallah, Al-Bireh and Bethlehem," the health ministry announced.
Those hurt were transferred to the Palestinian Medical Complex in Ramallah, the Palestinian Health Ministry told the Ma'an news agency, adding that all were shot in the lower body.
Israeli forces said that they were responding to violence stemming from the Palestinian side. They confirmed the use of live fire.
"Rioters attacked forces and hurled Molotov cocktails and rocks at them. The forces then responded," the statement said.
In the Gaza Strip, several Palestinian protesters were also injured during clashes with Israeli forces at the border of the Bureij refugee camp. Young protesters fired slingshots and threw tear gas back at IDF troops. The latter subsequently returned fire.
Meanwhile, over 2,000 activists flocked to a rally at the Al-Azhar University in Gaza. Organized by the Fatah Youth Movement, students marched to commemorate the anniversary of the death of the PLO chairman Yasser Arafat, who many believe was poisoned by Israel eleven years ago. There were no reports of violence.
The latest tensions erupted over a month ago when Israel tried to restrict access to the Al-Aqsa Mosque in the Old City of Jerusalem. Some 77 Palestinians have been killed since late September. At least 10 Israelis have died as the tensions continue.
You can share this story on social media: