Battle to break ISIS siege of Kweires airbase caught on camera (GRAPHIC VIDEO)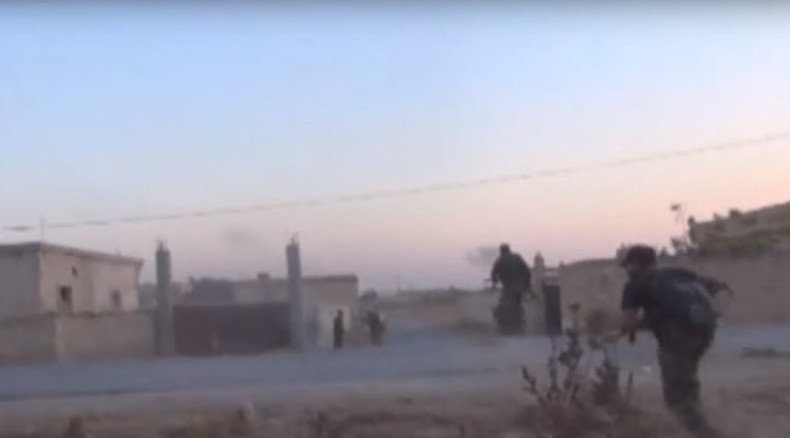 Intense battles raged in and around the Kweires airbase near Aleppo between government forces and Islamist militants, as the Syrian Army supported by the Russian Air Force managed to partially lift a blockade following a two-year Islamic State siege.
Gun battles as well as shelling can be seen in the incredible footage of the advance made by government forces. The dead bodies of Islamist terrorists are also visible across the battlefield.
As a result of the push by Syrian government troops, with the help of Russian airstrikes and local irregular forces, more than 900 militants were killed near the village of Telmam in Aleppo province. Intelligence regarding the locations of the terrorists' positions around the base was partially provided by the Syrian opposition, the Russian Defense Ministry announced on Wednesday.
READ MORE: Syrian opposition provided intel to target terrorists around besieged key airbase - Russia
A spokesman for the Syrian Army and Armed Forces added that new progress in the war against Islamist militants was being made in the Latakia and Aleppo provinces. The Syrian Air Force carried out 75 sorties that destroyed 150 targets across the country.
In Aleppo province where the combat footage was filmed, the spokesman said that army units, aside from establishing control over Kweires airbase after "heavy fighting," are now also in control of more than 250 square kilometers of the surrounding area.
According to the spokesman, the Syrian Air Force targeted three Islamic State (IS, formerly ISIS/ISIL) sites in the Aleppo countryside in addition to "fortified sites" belonging to Al-Nusra Front.
The government forces have made rapid advances against jihadist groups over the past six weeks following the start of Moscow's air campaign. Russia has carried out over 1,600 sorties since establishing an airbase in northern Syria in September at the personal request of Syrian president Bashar Assad, who has been battling the Islamic jihadists since 2011.
You can share this story on social media: