Yemen hospitals 'deliberately' targeted in 100 attacks since March – ICRC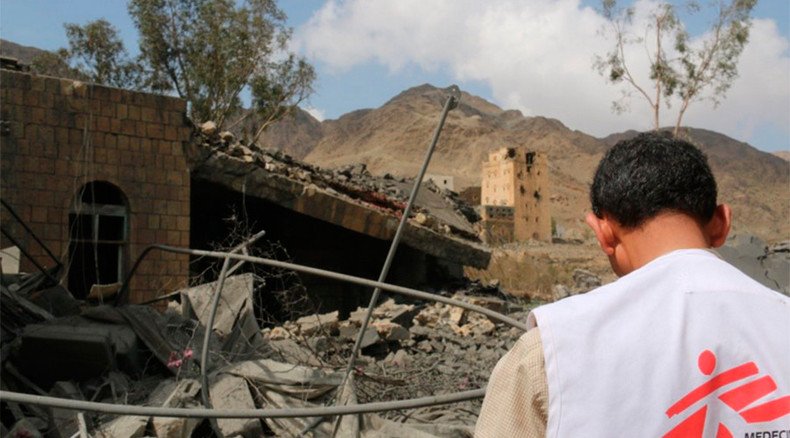 Medical facilities in war-torn Yemen are being 'deliberately' attacked, with some 100 incidents reported since the Saudi-led coalition began airstrikes in March, the International Committee of the Red Cross said, calling on all sides to cease hostilities.
"Close to a hundred ...incidents have been reported since March 2015," the International Committee of the Red Cross (ICRC), said in a statement, condemning the shelling of the Al-Thawra medical hospital in Taez on Sunday. According to the NGO, one of the city's main hospitals that catered for around 50 patients was reportedly shelled several times.
"The shelling endangered the lives of patients and staff on site," said the ICRC deputy head in Yemen, Kedir Awol Omar.
Sunday's incident comes weeks after the Medecins Sans Frontieres (MSF) hospital in Saada was hit by Saudi Arabian airstrikes.
ICRC claims these attacks to be "deliberate" and in "flagrant violation" of the international law.
"Health facilities are deliberately attacked and surgical and medical supplies are also being blocked from reaching hospitals in areas under siege," said Omar. The ICRC said it has tried to get medical supplies to Taez for nearly two months, "but to no avail."
Taez, the third largest city in Yemen, became the center for Saudi-led coalition's bombardment as heavy fighting continues in recent weeks between forces loyal to exiled president Abd Rabbu Mansour Hadi and Houthi fighters loyal to the former president Ali Abdullah Saleh.
Since Sunday, at least 29 people, including eight civilians, were killed in Taez, medical sources told Reuters. The United Nations says that more than 5,600 people have died in the Yemen conflict since March.
Meanwhile the US, which has been providing intelligence data to the Saudis, blamed the high civilian death toll, in no small degree stemming from the Saudi-led airstrike campaign, on the Houthi fighters.
"Remember that the Houthis created the current situation in Yemen – and have increased the violence. The reason the Saudis are there is because of the ongoing Houthi-provoked violence," State Department spokesperson, Mark Toner, said Tuesday.
When asked if bombardment in Yemen has achieved anything since March, Toner stressed that Washington does not see a "military solution" to the crisis.
"We need a UN political transition," Toner said. "The other major concern is that there's a humanitarian crisis – we [have] got to call on all sides to allow the provision of humanitarian assistance."
You can share this story on social media: