Anti-austerity bloc brings down Portugal's government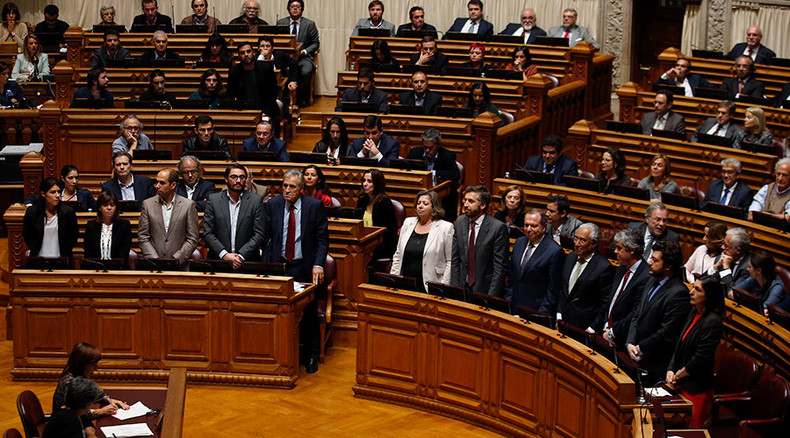 Portugal's pro-austerity government has been forced to resign by a leftist anti-austerity block, despite being sworn in only two weeks ago.
Proposals to continue austerity policies were blocked in parliament, backed by mass public anger, forcing the government to dissolve.
The moderate Socialists worked with the Communist Party and radical Left Bloc to form a majority that voted down fresh austerity proposals today.
Following the October 4th general election, the anti-austerity leftist majority was explicitly prevented from forming a government by the president, citing 'the national interest'.
One of Europe's troubled PIGS, Portugal took a €78 billion bailout in 2011 and since then has spiraled into austerity dead-end fueling mass social unrest and emigration.
Sweeping cuts and increased taxes led to large street protests and strikes. Unemployment peaked at 17.7% in 2013.
Anti-austerity supporters are already celebrating the fall of the right-wing administration.
The attempt to sideline anti-austerity politics sent shock waves through Europe, but was largely ignored in Brussels, where protecting shaky austerity plans from democratic upheaval seemed paramount.
Ameera David of RT's Boom Bust warns Portugal is not out of the woods yet: "This new alliance rejects the austerity drive which means we could see a huge realignment in fiscal policies. It's also unknown what kind of implications this move will have on Portugal's EU standing."
While the socialist party has argued it will respect the policies of the Eurozone, the PS will now be working with two parties that want to repeal pro-market reforms. In fact, the communist party has openly campaigned to leave the Euro.
You can share this story on social media: