Italian farmers besiege dairy corp with cows & tractors (VIDEO, PHOTOS)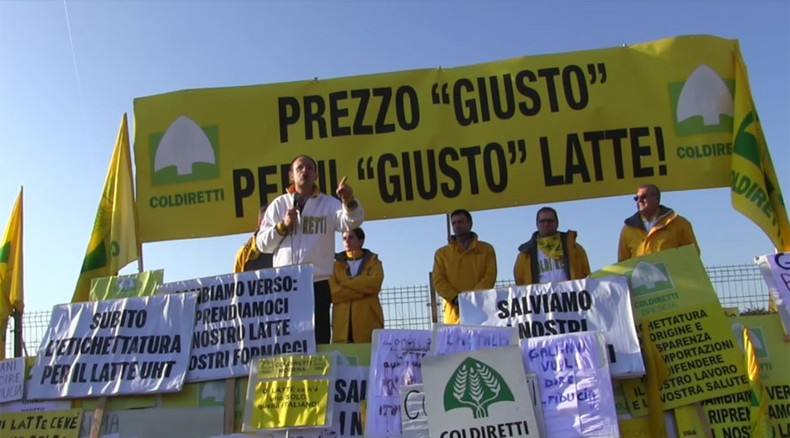 Thousands of Italian farmers are continuing to blockade a multi-national dairy products corporation near Milan for the third day running, demanding a price increase for their milk.
The farmers are suffering partly due to the Russian ban on EU imports after the union imposed sanctions against Moscow over Ukraine.
More than 2,000 dairymen, members of the Coldiretti farming union, continued to blockade the headquarters of Lactalis in Ospedaletto Lodigiano. Farmers are unhappy that the French multinational is only paying them €0.35 ($0.38) for a liter of milk.
"We are here to protest against the big producers paying a price for milk which does not cover production costs. It means 35,000 farmers will go bust in Italy. And to the EU: we don't want to produce cheese with powdered milk, but only with our milk and we want to ensure our products are certificated 'made in Italy,'" one farmer said during the protest.
The farmers say such low prices don't even cover the cost of production. To ensure their demands were heard, the farmers made cheese at the site of the protest, while blocking the surrounding streets with tractors and cows.
The Lactalis group has warned the protesters against engaging in a "milk war," emphasizing that "the production of fresh cheeses does not allow for more than a day of stock product," forcing the company to buy less milk, around seven percent, from farmers as the strike continues.
If the block on the plant near Milan continues, Lactalis says it will be "forced to gradually reduce the production of fresh cheese and, therefore, the collection of milk."
Falling prices for agricultural produce has been partially attributed to recent changes in the market caused by EU sanctions against Russia, to which Russia responded by banning EU imports.