WADA calls for Russian athletes ban over doping allegations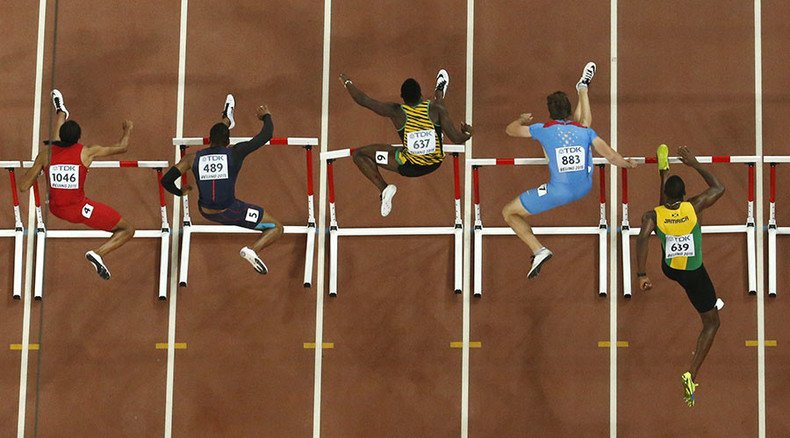 The World Anti-Doping Agency (WADA) has accused Russia of systematic doping violations and cover-ups involving Russian officials, including the sports minister. It calls for Russian athletes to be barred from competitions.
13 November 2015

20:14 GMT

"The World Anti-Doping Agency (WADA) says the Russian Anti-Doping Agency (RUSADA) has not been complying with anti-doping rules. A decision regarding the fate of RUSADA will be taken in Colorado Springs on November 18," Natalia Zhelanova, Russian Ssports Minister advisor Natalia Zhelanova told "R-Sport".

The Russian Sports Vitaly Mutko minister called on the president of WADA to expedite the accrediting procedures for the Russian anti-doping lab because if its license is revoked, this will lead to a lack of funding which will mean loss of highly qualified personnel and make the fight against doping tougher in Russia.

16:39 GMT

The International Association of Athletics Federations (IAAF) has hidden 155 test results since 2008, Russian Sports Minister Vitaly Mutko said on Friday. Russian athletes are involved in only 15 of those cases, the official said.

16:32 GMT

WADA is ready for a dialogue with Russia after a road map to solve the doping issue is received, RIA Novosti cited Russian Sports Minister Vitaly Mutko as saying. The official added he was sure Russian athletes would not be banned from competition, although temporarily sanctions might be applied by the IAAF.

14:57 GMT

Doping drugs are not being produced in Russia, the sports minister told journalists, adding that it is being smuggled into the country by certain "mafia circles." Although the problem is not specifically Russian, tougher punishment measures for doping abuse should be introduced, Vitaly Mutko said, adding that he had spoken to President Putin about launching new control mechanisms and the possible introduction of criminal sanctions.

14:08 GMT

Up to 160 sportsmen and women are banned from competition in Russia every year, Sports Minister Mutko told a press conference on Friday.

"Some might call it efficient work, while others could say the number is too big," he said.

Russia has created the largest number of biological passports for its athletes, Mutko said, adding that all data from them is automatically entered into international control system. Allegations that some tests have been destroyed is nonsense.

13:40 GMT

The work of Moscow's anti-doping laboratory is based on the model of the World Anti-Doping Agency (WADA), and no manipulations with doping tests are possible, Russian Sports Minister Vitaly Mutko told journalists on Friday.

"We bought [the equipment] which had been recommended by them [WADA]. We are ready to reveal all doping control procedures," Mutko said, adding that if any additional standards are necessary to be applied, Moscow is ready to consider them.

Russia has invested over 1.5 billion rubles (US$22.5 million) into the anti-doping laboratory, Mutko said, adding that if there are any wrongdoers, they will be punished.

12 November 2015

19:05 GMT

The Russian Athletics Federation (VFLA) has sent a report regarding doping allegations made against the country by the World Anti-Doping Agency (WADA) to the International Association of Athletics Federations' (IAAF), the acting head of the sports governing body in Russia Vadim Zelichenok said, as cited by TASS.

18:01 GMT

Director of Swiss anti-doping laboratory LAD Martial Saugy said the report by the independent commission of the World Anti-Doping Agency (WADA) was misleading. He rejected accusations that the lab destroyed biological samples of Russian athletes insisting it followed all the procedures required.

He said at least 12 out of 67 samples of urine taken from Russian athletes did not contain enough liquid to re-analyse them for possible traces of doping. The remaining 55 samples were tested but the result was technically comparable with findings of the Russian anti-doping body.

00:01 GMT

Russian President Vladimir Putin has instructed sports minister, Vitaly Mutko, to hold his own investigation into the doping scandal and cooperate with international anti-doping organizations.

Putin said that those guilty of doping use should be punished, while those, who are innocent, should not be held responsible for others actions.