'Struggle over democracy': Israelis protest Netanyahu's gas deal with US energy giant (PHOTO, VIDEO)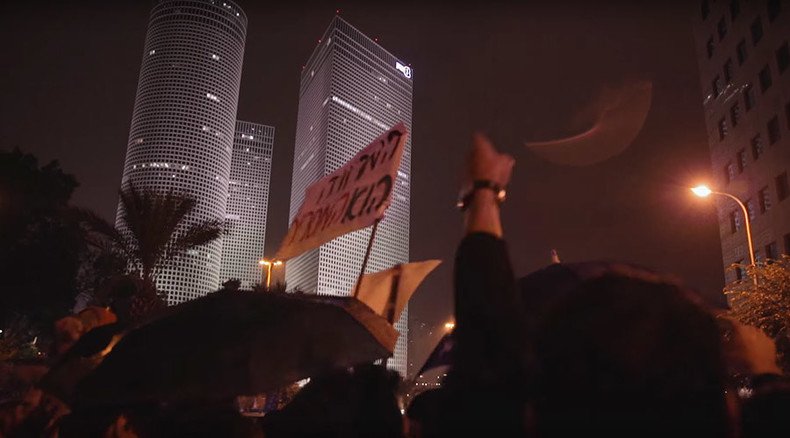 Thousands gathered across Israel in protest to speak out against PM Benjamin Netanyahu's natural gas deal with US energy giant Noble Energy. The deal is likely to receive approval shortly, but critics describe it as "the great gas robbery."
More than 7,000 joined the march in Tel Aviv on Saturday evening. Hundreds of Israelis also came out onto the streets in Jerusalem, Haifa and Beersheba.
Demonstrators waved Israeli flags and carried signs reading "Gas theft," while chanting slogans such as "This is our gas."
The situation intensified in Tel Aviv as police began to push protesters back after some had blocked traffic on a busy street. Around 10 people were arrested. Another three were taken into custody in Beersheba following clashes with police.
Protesters said they were angry with Netanyahu's attempts to bypass anti-trust regulations, expressing concern over a lack of oversight.
"The gas monopoly has already led two regulators to be kicked aside and has sent ministers running," the Times of Israel quoted Orly Levy-Abekasis from the right-wing Yisrael Beytenu party as saying.
Other protesters said they were being robbed by the government and the energy company. "The authorities are trying to help Big Money 'clean up' at the expense of Israeli citizens," Channel 2 News quoted one of the organizers, Yossi Dorfman, as saying. "To 'clean up' from natural resources that belong, by law, to the citizens of Israel."
One of the strongest opponents to bypassing anti-trust regulations – Economy Minister Aryeh Deri – resigned last week. Netanyahu assumed the post following the move, promising to eliminate any immediate obstacles and pass the agreement.
If the deal is approved, America's Noble Energy and Israel's Delek Group will gain access to the country's largest offshore gas reserve — the Leviathan. In exchange, the two will have to limit production in the currently operational Tamar field, as well as Tanin and Karish fields.
It is believed that Leviathan could contain 18.9 trillion cubic feet (535 billion cubic meters) of gas. The new discovery could turn Israel into one of the biggest gas producers in the area.
Critics say the agreement could establish a monopoly over natural gas without sufficient oversight, potentially resulting in increased prices for Israeli consumers.
MP Dov Khenin, who joined the rally in Haifa, stated that the deal would corrupt lawmakers, as it "gift[s] away our natural resources to tycoons."
"This struggle is not only economic and social, but also over democracy, since there can be no democracy under the rule of money," AFP quoted Khenin as saying.
You can share this story on social media: