'Strong & safe': Syrian Air Force pilots say veteran Soviet fighter jets are effective against jihad
Syrian Air Force pilots are flying desperately outdated fighter jets on their anti-terror missions, loading them with homemade air bombs. But they are in high spirits as they feel they are winning the war against ISIS, they told RT.
The latest figures of Russia's continuing air campaign in Syria show over 260 terrorist targets hit earlier this week.
While Russian pilots benefit either from the most advanced jets or fully refurbished and modernized warplanes, their Syrian counterparts' planes are more basic, with some of their aircraft dating back to the 1960s, RT's Murad Gazdiev reports after visiting a Syrian Air Force base in Hama.
The Mikoyan-Gurevich MiG-21 (NATO designation name - Fishbed) fighter jet was not designed for ground airstrikes, but Syrian pilots are successfully using them as bombers, delivering deadly aerial bombardments on Islamic State positions.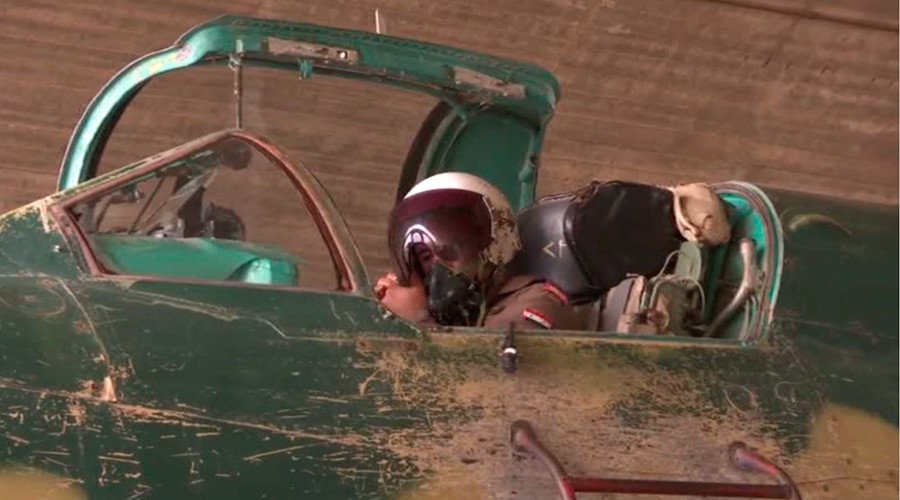 Officially the most produced supersonic fighter jet in aviation history, MiG-21s confronted the US Air Force during the Vietnam War. Today, nearly 50 years later, these highly-reliable aircraft are still in service in Syria.
"It's a strong tough plane, and safe as well. It does everything we ask of it," an unnamed Syrian pilot told RT, specifying that on average, the pilots make three to four sorties a day.
The pilot RT spoke to has more than 2,500 flight hours, more than 100 days in the cockpit, and these were days on combat missions, not an auto-controlled flight.

"We're still trying to understand these jihadists and their attempts to destroy our country and why western powers spread misinformation to the world about what is happening here," a Syrian pilot said.
After years of warfare, the Syrian military industry is not what it was. One of the problems of the Syrian Air Force today is true shortage of drop ammo. But the Syrians have learned to manufacture the bombs domestically.
The MiG-21s are not the only veteran aircraft in the Syrian inventory. The Mikoyan-Gurevich MiG-23 (NATO designation name - Flogger), the MiG-21's successor, a variable-geometry fighter aircraft, came into service a decade later, yet the youngest aircraft of this type are at least 30 years old.
However outdated their trusty beasts might be, this does not make the Syrian pilots less enthusiastic about their fight against jihadists.
"We're on full combat alert and carry out orders day or night," a Syrian Air Force official told RT.
You can share this story on social media: