Japan's first passenger jet successfully passes taxiing test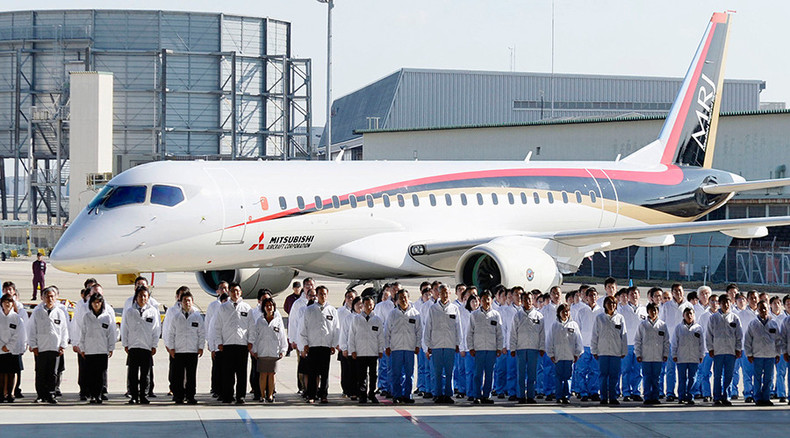 Mitsubishi Aircraft Corporation has confirmed positive results in a fast taxiing test by Japan's first passenger jet, MRJ. The aircraft is expected to make its maiden flight between November 9 and 15.
The aircraft Mitsubishi Regional Jet (MRJ) has reached speeds of 220 km/h while taxiing and has performed nose gear liftoff.
The test attracted a large number of aviation enthusiasts and spectators, who came to an airfield in Aichi Prefecture harboring the Mitsubishi Aircraft Corporation and Mitsubishi Heavy Industries Aero Engines Ltd.
The aviation experts and enthusiasts will return to the same airfield as early as next week, when MAC announces the exact date of the first flight of their creation.
The MRJ project was presented at the 47th Paris Air Show in June 2007, with a scale model of the aircraft and a cabin mock-up. In October 2014, the aircraft was presented to the general public, with an expected first flight to take place in May 2015. But the maiden liftoff has been postponed several times for technical reasons.
In late October, Japan's Land, Infrastructure, Transport and Tourism Ministry finally granted the Mitsubishi Aircraft Corporation permission to test-fly the MRJ.
The Mitsubishi Aircraft Corporation once again delayed the high speed taxiing tests due to a malfunction of the aircraft's rudder pedal.
Now everything is ready and the aircraft is set to fly within days, depending on the weather.
The MRJ is a historic achievement for Japanese aviation industry, as it is the first passenger jet fully developed and produced in Japan.
The aircraft will have a 3,500-kilometer flying range with two passenger seat configurations, standard for 78 seats and extended for 92 seats. A version for 100 passengers is also under discussion.