'Asylum is something time-limited': Austria moves to toughen refugee laws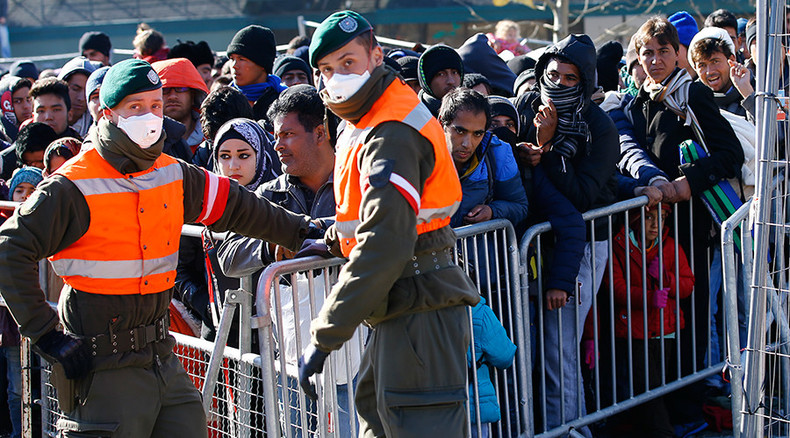 Facing a record influx of refugees, the Austrian government has proposed measures toughening requirements for asylum seekers and reunification with their families. The UN refugee agency has denounced the move, saying it will lead to more suffering.
A set of new rules, which was proposed on Tuesday and is now being discussed by the parliament, will affect all asylum seekers if it comes into effect on November 15. The new measures are aimed at better distinguishing between those really fleeing war and persecution and those just seeking better life.
According to Austrian Chancellor Werner Faymann, the new regulations should send a clear signal to refugees that the granting of asylum is only a temporary measure not equal to a permanent residence permit.
"Asylum is something time-limited," he said, as quoted by the Austrian newspaper Der Standard.
The bill envisages a new asylum model for refugees in Austria called "temporary asylum," in which a person could receive asylum in the country for a period of only three years, as opposed to the present standard of at least five years, Der Standard reports. Currently, a person's asylum request is reprocessed after this period, taking into account the situation in their country of origin.
If the situation in the asylum seeker's home country is regarded as safe, the person is asked to return there or faces compulsorily expulsion from Austria in case of refusal to leave the country. If the reason for granting asylum remains, the refugee is allowed to stay in the country for a longer period.
The proposed bill also envisages stricter rules for family reunification, beefing up the criteria required for receiving such permission. Under the new system, the person would need to have a residence that "is regarded as a standard one for a big family under local conditions" as well as a stable income that "will not put financial burden on local community" in case of family reunification. They would also be required to have medical insurance.
As a result, under the new rules a person getting by on unemployment or social benefits would find it nearly impossible to bring family members to Austria. In addition, a refugee could file a request for family reunification only three years after receiving asylum, while at present this 'waiting period' amounts to only one year.
However, Andreas Schieder, the leader of the Austrian Social Democrats fraction in the lower house of the country's parliament, stated that refugees could still be granted the right of family reunification and "one should not think it is somehow limited."
"This is a political decision. It is important for us to create clear rules here and, of course, to decrease [Austria's] attractiveness," Interior Minister Johanna Mikl-Leitner told Austrian ORF radio.
"Making family reunification rules stricter mainly affects Afghans," she added.
Afghan migrants, the second largest refugee group in Austria, are often young men traveling alone in hopes of being granted asylum and bringing their family to Europe later, which makes them the group that would be most affected by the new rules, German and Austrian media report.
Additionally, the new measures would apply only to those granted "subsidiary protection" in Austria and would not affect those receiving full political asylum in accordance with EU laws, as is the case for most Syrians, Austrian media report.
At the same time, many refugees are already coming to the country with small children or their families, so they will not be affected by the new regulations, said Austrian Minister of Social Affairs Rudolf Hundstorfer, adding that the number of asylum seekers in the country is expected to reach 1 percent of the country's population, Der Standard reports.
The proposed measures have already sparked criticism. The Vienna office of the UN refugee agency UNHCR claimed they would lead to more people suffering as well as hinder successful integration.
"If legal ways [to migrate] are being shut off, people will use traffickers and take larger risks than was the case up to now in order to rejoin their family and live with them in safety," said Christoph Pinter, head of UNHCR Austria, as quoted by Reuters.
In the meantime, the situation in the country is becoming increasingly strained. With up to 8,000 migrants crossing the border every day and authorities saying their numbers could soon rise to 12,000, local residents are stocking up on small arms.
Austrians have bought 70,000 guns this year alone, according to police. In a country with an estimated population of 8.5 million, there are currently about 900,000 privately owned guns.
At the same time, the government has been discussing plans to follow Hungary's example and build a fence on the country's border with Slovenia, although construction has not reportedly begun yet.
LISTEN MORE: