Severe storms batter Australia (PHOTO, VIDEO)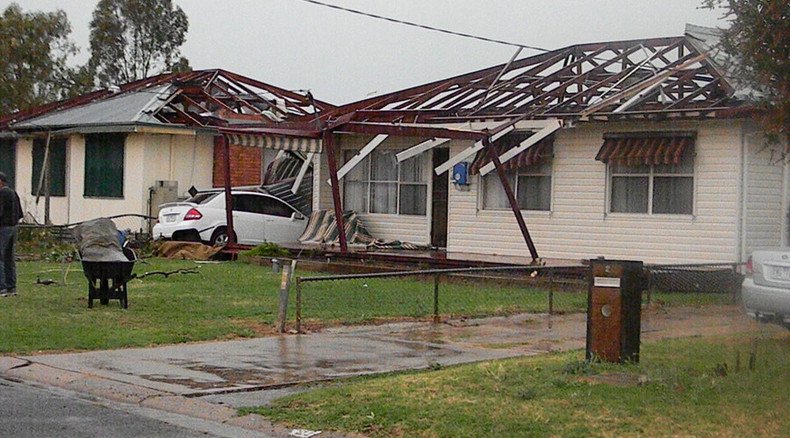 Storms so severe hit Australia this weekend that the disaster line stretched all the way from Queensland to Gippsland, something unseen in years. The internet was flooded with accounts of sunny weather turning into destructive greyness.
The aftermath of the multiple storms left a trail of havoc from Queensland, through New South Wales and on to Victoria, emergency services said. As of early Sunday morning, Victoria was still under siege.
According to ABC, citing the Victorian State Emergency Service (SES), the New South Wales-Victorian border saw trees uprooted and houses badly damaged.
"This was a very broad line of storms, that extended basically from Queensland down towards Gippsland," senior forecaster at the Bureau of Meteorology Richard Carolyn told Huffington Post Australia.
"It's rare to see a storm line stretch that far. It can happen, you need a very active low pressure trough to extend right through that distance."
The interesting part was that, while many initially thought they had seen a tornado, places like Strathmerton actually saw "strong down bursts out of the thunderstorm," Carolyn said. Despite the difference in words, the roofs of 10 houses there were ripped clean off.
There were 120 calls for help to emergency services on Sunday; twenty further calls related to property damage, with another 35 complaining of fallen trees blocking roads and damaging power lines.
"We did record gusts of 90kmp/h in Shepparton and 117kmp/h in the southern NSW town of Hay," he added.
The situation was different in Nathalia, south of Strathmerton.
Each area saw a different side to the disaster. Sydney, for example, witnessed hail the size of golf balls.
But Australians weren't thrown off their game completely – it's the time of the year when storms occur, just before spring. The state of Victoria gets about one to three a year.
Agencies were issuing severe wind, hail and storm warnings all weekend. According to experts speaking to ABC, Monday brings hope of calmer winds and less humidity, but the situation could take several days to really calm down.
"We should see a fair bit of sun around as well. So [it will be] a fairly pleasant day after an unsettled day [Saturday] and Oaks Day will be wet," Carolyn said.
You can share this story on social media: