VIDEOS: Russia carries out numerous test missile launches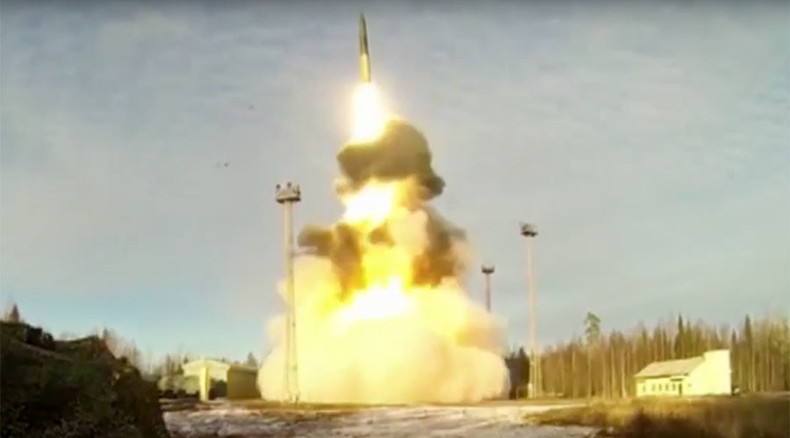 Russia has conducted a major test of its strategic missile forces, firing numerous ballistic and cruise missiles from various training areas across the country, videos uploaded by the Ministry of Defense have shown.
A routine exercise, possibly the largest of its kind this year, was intended to test the command system of transmitting orders among departments and involved launches from military ranges on the ground, at sea and in the air, the ministry said Friday.
"The exercise testing the reliability of the passage of combat-training orders and signals along the entire command vertical, from the Russian National Defense Management Center to the command points of formations and military units, inclusive," the Russian Defense Ministry's press service and information department said.
The drill involved the launch of a Kalibr cruise missile from the Caspian flotilla as well as firing intercontinental ballistic missiles from nuclear submarines in the Barents Sea and the Sea of Okhotsk. A ground-based Topol missile was launched from Plesetsk rocket site.
"The strategic missile underwater cruisers Bryansk of the Northern fleet and Podolsk of the Pacific fleet have launched ballistic missiles from the Barents Sea and the Sea of Okhotsk," the Defense Ministry reported.
Tu-160 strategic bombers launched cruise missiles at training targets at Pemboi, Komi region, and the Kura shooting range on the far eastern Kamchatka Peninsula as well as an Iskander cruise missile which was fired at the Kapustin Yar range in southern Russia.
Russia's Navy in the southern Caspian launched 26 Kalibr cruise missiles, targeting terrorist installations in Syria as part of Moscow's air-to-ground operation that started September 30 at the request of the Syrian government.
You can share this story on social media: