Best RT videos since start of Russian anti-ISIS campaign in Syria 1 month ago (VIDEO)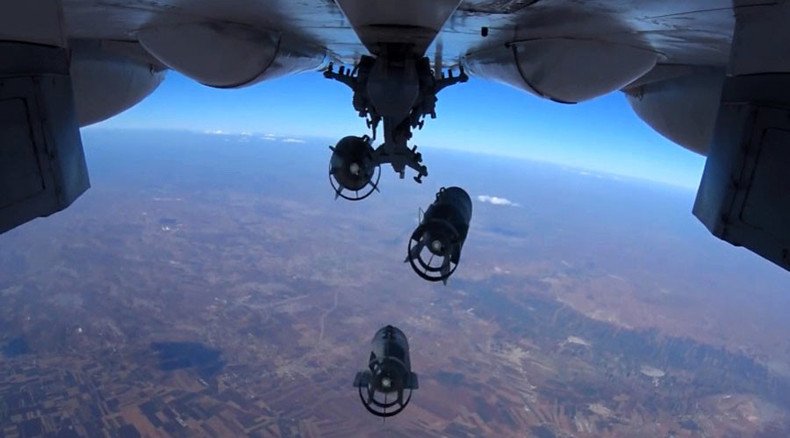 One month since Russia launched its ops against jihadists in Syria and online coverage of the campaign has boosted and attracted millions to RT online platforms in search of fascinating first-hand videos accounts from the region.
Cruising the Caspian
This is the best of the best of the footage - Russia showing just what an arsenal of high-powered weapons it has at its disposal by launching the most advanced cruise missiles at the jihadists from the Caspian Sea – and impressive 1,500km away! And with almost pinpoint accuracy to boot. Over a million of our viewers and readers enjoyed this one.
Let the bombing begin
Moscow's announcement of the ops against Islamic State (IS, formerly ISIS) in Syria was also a hit - with almost 900,000 views. With just an hour's warning given to their US colleagues, Russian bombers started showering down missiles on jihadist targets to try and end their reign of terror.
Mission control
And this is the hub of Russia's mission in Syria – the air base in Latakia. The roar of jet engines is constant, as warplanes take-off to drop their payloads on IS infrastructure, or are returning to base to get ready for more sorties.
Just the beginning…
This was one of the first airstrikes carried out by the Russian Air Force in the first video released by the MoD. The precise raid struck an IS stronghold, sending a plume of smoke high into the sky. A vehicle can be seen driving towards the compound just as a Russian bomb hits the target…
Raqqa in ruins
Raqqa has felt the brunt of IS's Islamic despotism more than most – well the city is their terrorist group's de-facto capital. Russian jets bombed the hell out of an IS command center there with intelligence saying the jihadists were fleeing in their droves.
And the Russia's Air Force sorties against IS are carried out day and night.
Bombs away
Want a close-up of just what is awaiting the terrorists? A Russian Su-25 drops a payload of FAB-250 bombs all filmed with a GoPro camera. This is far from a one-off, with Moscow unleashing its multitude of weapons on IS targets dozens of times a day, during its multiple sorties.
Militant mosques
Concrete underground bunkers can't save the jihadists, so what can? Mosques. Why? Because the Russian military has said many times it doesn't target places of worship. The MoD released this video of suspected IS militants making a beeline for their nearest Mosque – a place where they could do worse than say a prayer or two…
Helicopter hell
While Russia's warplanes may have been getting all the headlines for pounding IS targets, Moscow's helicopter crews have also been chipping in to make life hell for the jihadists and make sure jets can take off from the airbase safely. Loaded with hi-tech military hardware, their greater movability gives the Russian Air Force the upper hand.
Frontline fury
With Russian air power above, Syria's Army has been given renewed strength to continue their ground campaign to eliminate jihadists from its soil. And an RT crew was among the first journalists to follow the military as they regained villages on the frontline near Damascus with tanks, RPG's and other military hardware.
You can share this story on social media: