Czech charity helps homeless by turning them into WiFi hotspots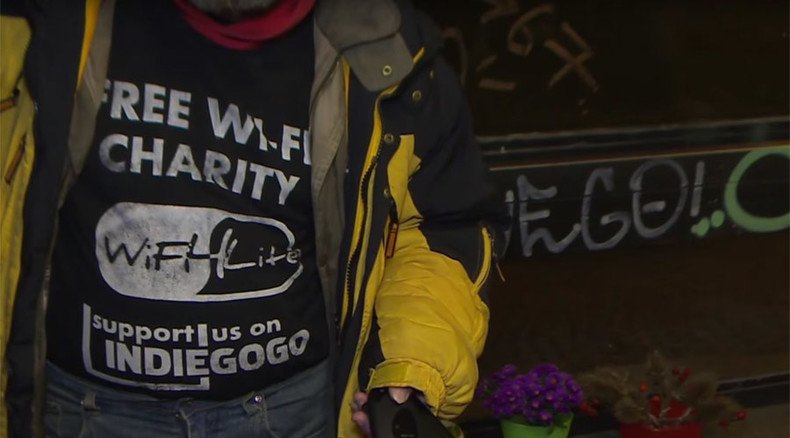 A Czech charity has proposed an unusual way to help the homeless and integrate them back into society: They have been offered work as human WiFi distributors on the streets of the capital city of Prague.
The charity "WiFi4Life" is giving the homeless pocket WiFi hotspots and a power bank, so that passers-by can access free internet or charge the batteries of their gadgets. For their work, the homeless get meals, clothing, allowances and decent accommodation.
"We choose homeless people because they are already in the street and most of the time they have nothing to do and we want them to start working ... This, to provide internet, is one of the jobs they can do," Lubos Bolecek, chairman of WiFi4Life, told RT's Ruptly video agency.
Despite the fact that the WiFi is provided free of charge, "WiFi4Life" coordinators say the project will not be funded with taxpayers' money. They have launched a crowdfunding campaign at Indiegogo to finance the first two months of the project.
Kamil Krtil, a homeless participant in the project spends eight hours near a metro station five days a week – except Monday and Tuesday which are his day-offs.
"This (WiFi Hotspot) is not as heavy as magazines or newspapers. But the main advantage is that you have to buy the magazines or the newspapers and then sell it on your own, so for the WiFi hotspot it is not necessary to have any money to start," Krtil said.
Coordinators of the project believe the project is useful not only for the homeless, for whom it is a chance to return to normal life, but also for tourists in Prague.
"…it is modern, it is practical, it is very useful for everybody, for tourists who will be lost in the centre of Prague," Vaclav Hovorka, coordinator of WiFi4Life said.
You can share this story on social media: