No firsthand info on alleged Russian 'airstrike' on hospital in Syria – Red Cross top executive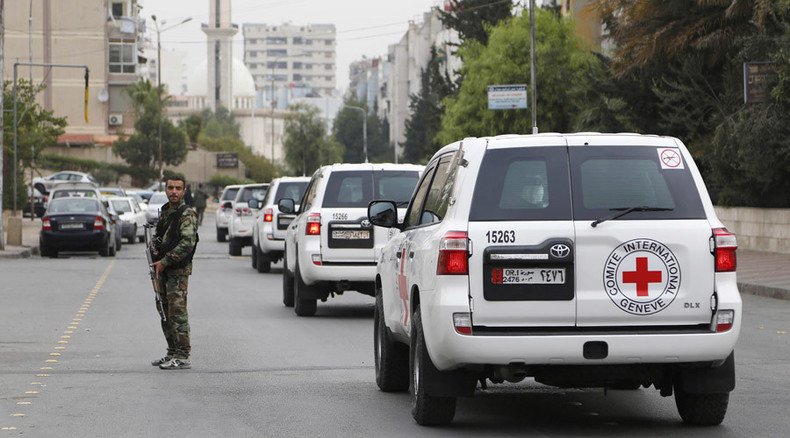 Red Cross personnel on the ground in Syria have not reported any 'airstrikes' allegedly delivered by Russian jets on civilian targets including hospitals, the medical charity's top executive told RT.
Since Moscow started its air campaign in Syria on September 30, Western media have been publishing reports that Russian jets are targeting civilians.
READ MORE: RT fact checks 4 media fails on Russia's anti-ISIS op in Syria
Last week, Russia was accused of bombing a number of hospitals in Syria, an allegation flatly denied by the Russian Defense Ministry.
Dominik Stillhart, director of operations at the International Committee of the Red Cross, which has people on the ground in Syria, told RT he is unaware of any such incidents.
"We've seen these reports as well, but in the absence of any firsthand information coming from our teams on the ground, I can neither confirm, nor deny these allegations," Stillhart said, stressing that international humanitarian law "fully applies to the airstrikes undertaken by [anyone] in Syria, including Russia.
"In addition to providing large scale humanitarian assistance, our teams on the ground are also monitoring the conduct of hostilities and use of force, and in case we have concerns, we will share them directly, in a bilateral and confidential dialogue with the relevant party," the Red Cross executive said.
Stillhart revealed his organization had two employees at the medical facility bombed by US forces in Kunduz, saying the Red Cross "is still shocked" by the tragic attack, "even more so, because hospitals, medical facilities and health staff are protected by international humanitarian law."
"There are investigations that [are] currently going on and we're anxious to see the results of these investigations," Stillhart said.
Despite security measures taken to protect health facilities and medical workers operating in zones of conflicts, "the only way to guarantee better protection [for] health facilities, health and humanitarian workers is to fully respect international humanitarian law," Dominik Stillhart said.
The smear campaign against Russian military operating in Syria began last week, with media outlets citing reports from the London-based Syrian Observatory for Human Rights and the Syrian American Medical Society (SAMS) foundation based in Canfield, Ohio.
The Wall Street Journal reported on Friday that "Russian airstrikes hit nine hospitals in Syria this month."
A statement from Russia's Foreign Ministry spokesperson, Maria Zakharova, stressed that such reports show tremendous bias against Russia's military efforts in Syria.
On October 25, the Human Rights Watch organization alleged that two airstrikes "the local residents believed to be Russian" killed a total of 59 civilians, including 33 children, in northern Homs on October 15.
The Kremlin spokesperson denied the allegations, stressing that a large number of these reports are in fact "hoaxes and deliberate lies."
"Our military has reported on many occasions that the terrorists are taking cover in residential areas. In such cases Russian troops choose not to hit those targets," Dmitry Peskov said.
On Tuesday, the Russian Ministry of Defense summoned military attaches from NATO countries and Saudi Arabia, to clarify their countries' allegations that Russian airstrikes in Syria have hit civilian targets.
The ministry demanded the military officials "give official validation to their statements, or issue a rebuttal," Defense Ministry deputy head Anatoly Antonov said.
You can share this story on social media: