Sexy & I know it: Saudi actor arrested for being too popular with women in Riyadh shopping mall
Published time: 29 Oct, 2015 07:42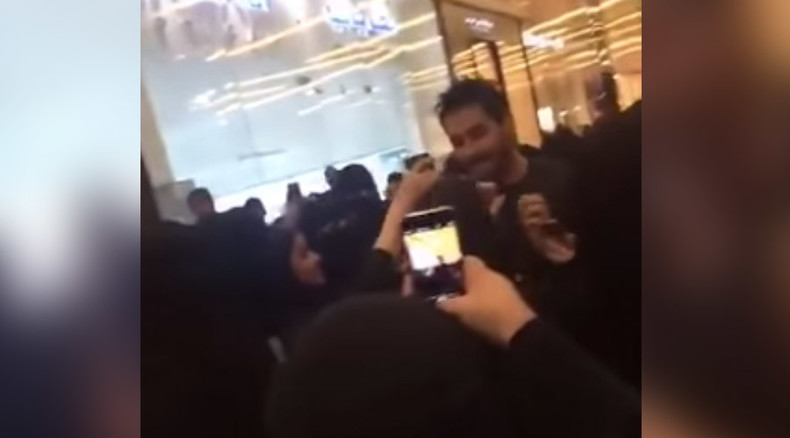 When a Saudi actor went to a Riyadh shopping mall, he didn't expect his visit to end up in a police station. Abdul Aziz Al Kassar was mobbed by female fans keen to take selfies with him, and got arrested for "disturbing public order" and mixing with women "unrelated to him."
A video of the incident, shot on a mobile phone and uploaded to YouTube, shows Al Kassar surrounded by women shouting his name, desperate to take pictures with him. That's when a man dressed in a white robe turns up all of a sudden, brutally grabs the actor by the shirt and drags him away.
Al Kassar was arrested by members of the Commission for the Promotion of Virtue and the Prevention of Vice, the country's religious police, it turned out. According to police, the man was disturbing public order and abusing social media, Gulf News reported.
The actor lives in Kuwait and was visiting Saudi Arabia for work. He had naively sent a message to his followers on the online messaging service Snapchat, asking for tips on where best to go shopping in Riyadh on Friday.
The actor, who is quite active on social media, later admitted he didn't expect to find so many people waiting for him in the shopping mall. "I want to clarify that the presence of young women at the mall was not something under my control," adding that the members of the Commission and mall staff should have warned him about the presence of such a large number of fans.
"They did not tell me to stay away and that not meeting them was better," Gulf News quoted Al Kassar as telling Saudi news site Al Marsad. "They initially took away my mobile, but returned it to me [later]."
READ MORE: Saudi prince arrested on private plane with 2 tons of drugs - reports
Al Kassar was later released on bail, but will have to wait until the investigation is over, since the Commission had reportedly accused him of using social media to meet women and take pictures with them inside the mall.