Mexico deploys navy to repel seaweed invasion (PHOTOS, VIDEO)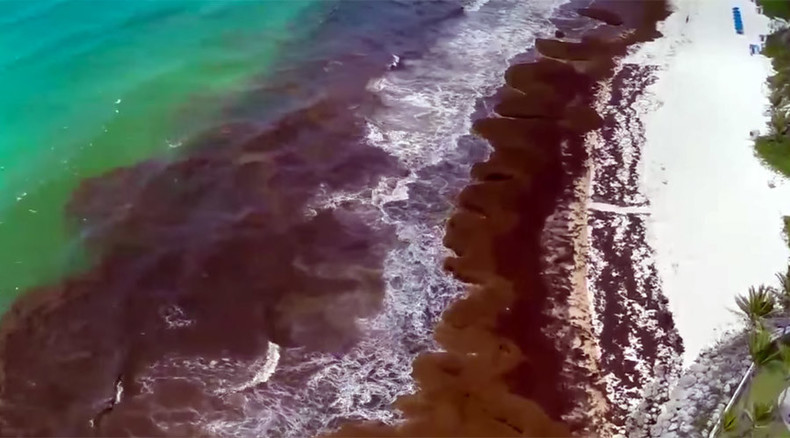 Huge amount of seaweed washed ashore at Mexico's most popular tourist destination, the Mayan Rivera, forcing the national authorities to deploy the navy for an unusual battle with the ever-growing threat to the regional economy.
Ever since the arrival of tons of sargassum algae to the waters of the Yucatan Peninsula in July, local authorities have been trying to find ways to clean up the amphibious algae monster.
So far the effort has focused on increasing the number of cleanup workers that are deployed along the beach line but their efforts has not been successful in getting rid of the brown piles in the Caribbean basin this year.
Along the coast of Quintana Roo state, around 5,000 laborers work in four-hour shifts to clean up the seaweed strewn across more than 100 miles of beaches. But despite the Mexican government providing 150 million pesos ($9.2 million) in August to fund the cleanup enterprise, the seaweed has just kept on coming.
Sargassum is a brown macroalgae of the Fucales family that is found throughout tropical oceans of the world in the shallow water and coral reefs.
Even though sargassum is not dangerous to humans, it is several meters long, and affects water sports and beach activities, causing massive damage to Mexico's tourist industry. According to the governor of the state of Quintana Roo, Roberto Borge, the popular resort destination of Cancun has seen a wave of tourists canceling their visits because of the seaweed problem.
In their latest effort, the authorities mustered a task force of naval and environmental authorities to study the problem, in a region that sees 10 million annual visitors, who collectively bring $8 billion in tourism-related revenue a year.
"Beaches are what we sell to the whole world and what we depend on, directly or indirectly, for all our income," Jose Eduardo Mariscal de la Selva, the director general of Cancun's maritime department said, as quoted by the Wall Street Journal.
The government is considering proposals to purchase boats and floating barriers to block the seaweed before it reaches the sandy shores. The navy meanwhile is testing a hydraulic suck-pump to battle the amphibious brown invasion.
"The best way to collect sargassum is in the sea, before it sinks," Rear Adm. Fernando Alfonso Angli Rodriguez told WSJ. "We are working on this very hard."
But for now, long stretches of beachy paradise are still covered in decomposing seaweed as it continues to attract flies and scare away the tourists.
You can share this story on social media: