Iran to be invited to participate in Syria talks – US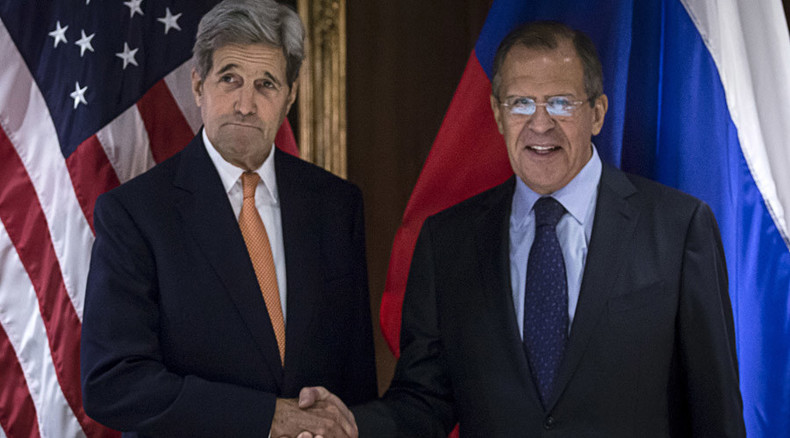 Iran is going to be invited to participate in multilateral talks about the conflict in Syria which will take place in Vienna, the US State Department said. It will be the first such US invitation extended to Iran since the eruption of the Syrian war in 2011.
"At some point, obviously – and the Secretary's talked about this – we know there's going to need to be a conversation with Iran towards the end of a political transition there [in Syria], towards that end," US State Department spokesperson John Kirby said during daily press briefing on Monday.
"At some point, the Secretary has made clear, Iran's going to have to be made part of this discussion. Now when that's going to be and where that's going to be and under what context, I think it's fair to say that all that is still being worked out," he added.
Although Kirby has not specified when Iran is going to join the multilateral talks over Syria, there are some speculations that the country could take part in the next diplomatic round which starts on Thursday in Vienna, AP reported, citing unnamed sources who claimed that such an invitation has already been sent.
READ MORE: Syria talks should be more 'representative,' include Iran, Egypt – Moscow
Iran is a key ally of Syrian president Bashar Assad and one of the main opponents of the US in the region since the Islamic Revolution in 1979. This, as well as sanctions imposed over the Iranian nuclear program, means that the US has been reluctant to let Iran participate in the peace process.
"Nobody – nobody's turning a blind eye to, as you put it, their [Iranian] belligerent actions in Syria," Kirby said on Monday pointing out that the US still opposes the Iranian position on the Syrian conflict.
Russia, conversely, insists on an inclusive format for political dialogue, which requires the participation of all parties involved in the conflict.
"It is necessary to unite everybody in all directions," Russian Foreign Minister Sergey Lavrov said at a press-conference on Tuesday. He also held a phone conversation with his Iranian counterpart about the Syria.
The war in Syria erupted in 2011 and has killed more than 220,000 people, according to UN estimates. Almost half the population has been forced to relocate internally or flee the country. A month ago Russia, Iran, Iraq and Syria established a joint information center in Baghdad to coordinate their operations against Islamic State (IS, formerly ISIL/ISIS). After that Russia launched an air campaign.