Emperor Palpatine takes City Council seat in Ukraine's Odessa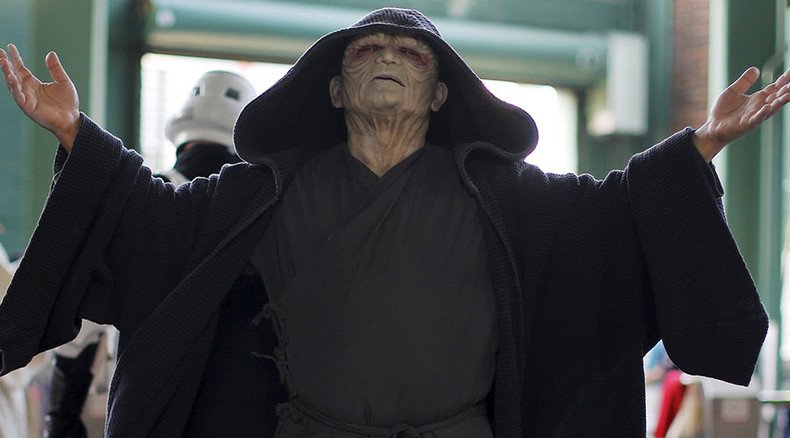 This is neither a joke nor a Star Wars sequel: The series' villain, Emperor Palpatine, is set to continue his political career in Ukraine. Following Sunday's nationwide elections, Darth Sidious secured a seat on Odessa City Council.
This is according to Odessa mayoral candidate Aleksandr Borovik, who shared the news, as well as his extreme bewilderment, on Facebook.
"A cartoon comrade of Darth Vader – Palpatine – received 54.4 percent of votes in Poselok Kotovskogo [one of Odessa's neighborhoods]. Palpatin Dmitry, born in 1990, who works as an emperor at 'LLC Palpatine Finance Group' makes it to the city council on the Trust Affairs party list," Borovik said.
"This is beyond my understanding," the politician added, saying that he nevertheless respected the choice of those who voted. "People, what's wrong with you?" Borovik wondered, rhetorically.
Ukraine's Central Election Committee registered Emperor Palpatine in September, along with fellow Star Wars characters, Darth Vader, Yoda, Padme Amidala and Chewbacca. Their fictitious alter egos are known in Ukraine as members of the reasonably popular Internet Party.
On October 25, Ukrainians voted for new local authorities, and cast ballots in the country's parliamentary elections, after President Petro Poroshenko dissolved the body back in August.
For the Internet Party's Star Wars candidates, the elections were marked by a number of bizarre accidents.
READ MORE: Chewbacca campaigns for Darth Vader in Ukraine, gets handcuffed by police (VIDEO)
Chewbacca, a hairy spaceship mechanic, got handcuffed by police and fined $7.50 (170 hryvna in the local currency) for violating a law that forbids campaigning on election day. Despite being anything but buddies in Star Wars, on Sunday "Chewie" attempted to canvass voters for Darth Vader.
Lord Vader, who leads Ukraine's Internet Party, appeared to be missing from the voter registry and failed to cast his own ballot. He did not give up easily and tried fighting for his voting rights with babushkas. Darth Vader's look did not quite match his passport picture while the man under the mask refused to show his real face.
"This disappoints me, but the fact that I didn't vote doesn't mean that the new Ukrainian empire is not being built," the defeated Darth Vader said.
Darth Alekseevich Vader – this is a real name, by the way – is a veteran of Ukrainian politics. He has attempted to run for several elected offices and even for president in last year's election. However, the legal demand for him to remove his iconic black mask and show his face for identification purposes, jeopardized his political career.
In September, "Master Vladimirovich Yoda" submitted a petition to the presidential website calling on President Poroshenko to consider Darth Vader as the country's new Prime Minister.
You can share this story on social media: