'Neutralized': Israeli police shoot Palestinian girl dead, cite knife threat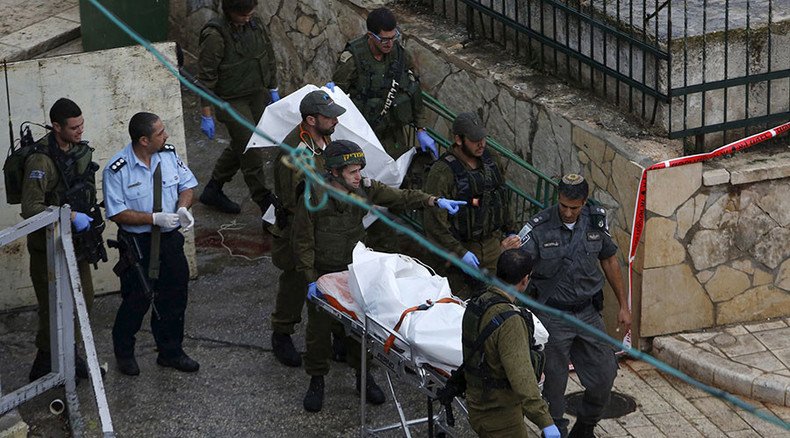 Israeli border police shot a Palestinian girl dead in the West Bank after she tried to stab officers, according to police accounts, saying she had been "neutralized." However, reports from witnesses dispute the claim that she posed a threat.
The incident took place in the southern West Bank city of Hebron.
"A Palestinian woman acting suspiciously approached border police forces. She was requested to identify herself when she suddenly drew a knife and approached the forces yelling. The forces shot at her and neutralized her," a police statement said.
The Palestinian girl was identified as 17-year-old Dania Irshaid. Israel said that none of the police officers had been injured.
The attack took place near a site known to Israelis as Cave of the Patriarchs and to Muslims as Ibrahimi Mosque.
However, the police's version of the incident has been disputed by witnesses who said no knife had been visible and that officers shot her approximately eight times.
Abdu Khader, who was only a few meters away, told AFP that when Irshaid reached the checkpoint, officers searched her backpack.
"She presented her backpack to soldiers who proceeded to search it," Khader said. "I heard them calling her and saying 'Where is the knife? Where is the knife?' She took a step back but there were a dozen soldiers behind her. They shot seven or eight times."
Raed Abu Rmileh described the events as follows: "She was at the checkpoint. A soldier called her to go through her bag. She put her bag on the ground and then we heard shooting. The soldiers said she had a knife," he said, adding that no such weapon was visible.
The Palestinian-led International Solidarity Movement spoke out on the issue, stating that it had received similar reports.
The organization said that she had tried to walk backwards, away from the police, and had first been shot in the legs. A total of around eight shots were heard.
Meanwhile, police maintain that they recovered a knife that had been in her possession. Israeli forces have increased security and been working overtime, citing a rising number of knife attacks. Police presence is now ubiquitous in every crowded public place, including shopping malls, transport hubs.
There has been a surge in violence from both sides since Israeli security forces announced a crackdown on Palestinians. Four Israelis and 25 Palestinians have been killed since the beginning of October.
READ MORE: IDF shoots, injures HRW employee at 'peaceful' protest in West Bank
Israeli-Palestinian tensions have been climbing as of late. Just a week ago, five Palestinians were shot dead by Israeli security forces at two separate locations – one in Jerusalem and one along the Gaza border fence with Israel. At the same time, four Israelis were injured in stabbing attacks.
The recent surge in violence has been fueled by a fresh dispute over the al-Aqsa mosque in Jerusalem located on the Temple Mount, which is considered a major holy site by both Islam and Judaism. Palestinians fear they will be deprived of their rights at Al-Aqsa, with Muslim clerics expressing concern that Israeli authorities plan to raze the mosque to construct a Jewish temple – a claim that Israel strongly denies.
In response to the increase in violence, last month Israeli Prime Minister Benjamin Netanyahu authorized the use of live ammunition, if needed, to quell the unrest.
LISTEN MORE:
You can share this story on social media: