40 protesters & police injured in clashes after 1,000s demand resignation of Montenegro's PM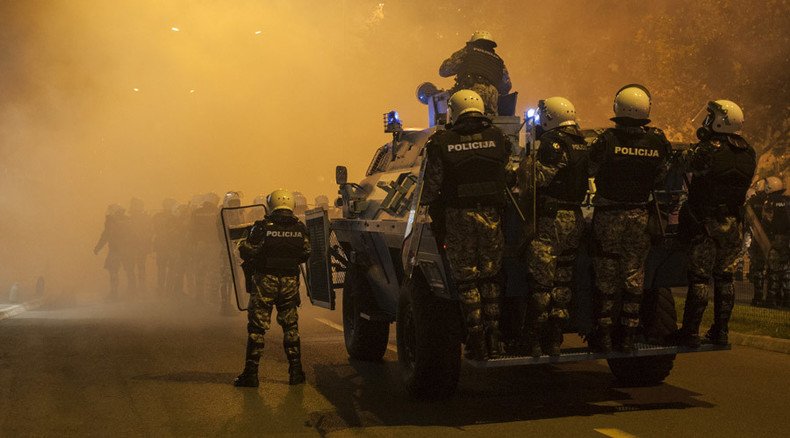 At least 40 people were injured after a massive rally attended by some 5,000 people ended in disorder near the parliament building in the Montenegrin capital of Podgorica. Police fired tear gas as protestors reportedly attempted to break in.
The rally began peacefully, as demonstrators called for an interim government and snap election in the country, which won its independence from Serbia in 2006.


However, tensions began to rise as the crowd reached the parliament building, which had been cordoned off by the police. Some protesters began allegedly throwing firecrackers at the building, after which police demanded that the demonstrators vacate the venue.
A video posted on YouTube shows a group of hooded protesters hurling Molotov cocktails and stones at the police.
Local media report several people have been injured.
A number of people remained lying on the ground after tear gas was used to disperse the crowd, Russia's RIA-Novosti said.

According to the agency, flash-bang sound bombs can be heard in the city, and several streets in the center have been cordoned off by police.
Calls for Montenegro's Prime Minister Milo Djukanovic to resign were voiced during the rally, which was attended by some 5,000 people by media estimates.
"Our message to Milo Djukanovic is... to answer our democratic speeches and accept the creation of an interim government and organize the first fair and honest elections," Milan Knezevic, a top-ranking official for the opposition Democratic Front Knezevic, told the rally.
Protesters accuse the premier, who has been in power for over two decades, of major corruption, as well as rising levels of crime and unemployment.
"Milo Djukanovic has robbed us, there are no jobs, he destroyed this country," a pensioner identified as Goran told AFP.
Protesters also urged the country's government to give up its plans to integrate with the NATO alliance.
Earlier on Saturday, a group of opposition supporters pelted the Albanian embassy in Montenegro's capital with stones, damaging its exterior.
You can share this story on social media: