'Extremely dangerous': Hurricane Patricia ravages Mexico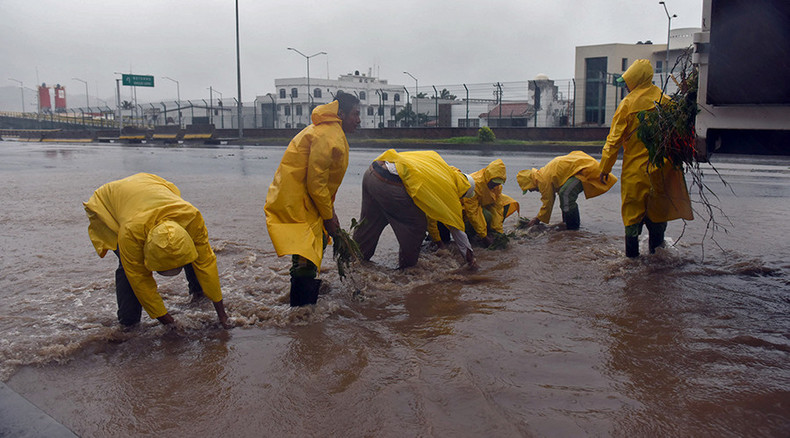 Patricia, a Category 5 storm, has made a landfall on Mexico's Pacific Coast with sustained wind speeds reaching 380 km per hour. Thousands of people have been evacuated as life-threatening flooding and mud-slides are feared along the hurricane's path.
24 October 2015

09:12 GMT

Mexico's National Meteorological Service has downgraded Hurricane Patricia to a Category 1. The storm is currently centered about 80 km south-southwest of the state of Zacatecas.

06:04 GMT

Hurricane Patricia has weakened to become a category 2 storm, Mexico's National Meteorological Service has stated.

05:15 GMT

Mexico's National Meteorological Service has downgraded the center of Hurricane Patricia to category 4 as it continues towards the towns of Talpa de Allende, Ayutla, Chicken Coop, Atengo and Mixtlán in Jalisco.

03:42 GMT

This footage shows the latest destruction wreaked by Hurricane Patricia as it whirled its way through the coastal town of Barra de Navidad.

03:07 GMT

With Patricia having moved inland, the coastal threat is decreasing, according to the Miami-based center. A forecast for strong and damaging winds as well as very heavy rainfall remains, which could lead to "Life-threatening flash floods and mudslides in the Mexican states of Nayarit, Jalisco, Colima, Michoacan and Guerrero through Saturday," the center said.

03:01 GMT

A hurricane warning is still in effect for the Pacific coast of Mexico from San Blas to Punta San Telmo. However, the NHC forecast predicts that Patricia will become a tropical storm by Saturday morning.