325km/h winds, thousands evacuated as Hurricane Patricia pounds Mexico (PHOTOS, VIDEOS)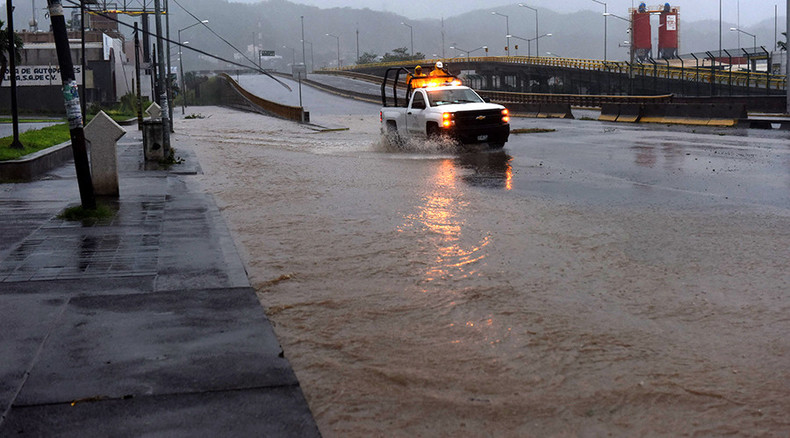 The strongest hurricane ever recorded in the Western Hemisphere has struck Mexico's Pacific Coast, destroying houses and forcing thousands to evacuate. Heavy flooding and mud-slides are also feared along the hurricane's path.
Hurricane Patricia grew at an "incredible rate" on Friday, the World Meteorological Organization (WMO) said. It became a hurricane overnight, carrying maximum sustained winds of about 200 miles per hour (325 km per hour) as it moved north-northwest at 12 mph (19 kph).
"This is really, really, really strong," WMO spokeswoman Clare Nullis told a UN briefing in Geneva on Friday, adding that "the winds are enough to get a plane in the air and keep it flying."
The National Hurricane Center said Hurricane Patricia's damage potential is "catastrophic," adding that it is the "strongest hurricane on record" in the Atlantic and eastern North Pacific Basins. It is expected to arrive on Mexico's shores on Friday afternoon or evening.
It has been labeled a Category 5 hurricane, the highest rating possible, and experts have warned it could trigger 40-foot waves and severe flash flooding.
Loudspeakers in Puerto Vallarta, Mexico, ordered hotels to evacuate their guests on Friday, as the streets emptied as police sirens wailed.
The city's airport was closed, along with local schools and many businesses. Store owners could be seen boarding and taping windows.
Puerto Vallarta and Manzanillo, both key cargo ports, were shut down as the storm approached.
"Everything looks normal right now, but the most dangerous things will be strong waves and rains. We'll definitely have to take precautions. We're going to a shelter shortly," tourist gift shop worker David Gonzalez told Reuters.
Mexico has declared a state of emergency. Authorities have prepared shelters for those fleeing the hurricane, warning people in the states of Colima, Jalisco, and Michoacan to prepare for torrential rainfall of up to 20 inches.
The US government has urged its citizens to stay away from beaches and rough seas and take shelter as instructed by Mexican officials.
Speaking at the UN briefing, Nullis compared the hurricane to Typhoon Haiyan, which killed 6,300 people in the Philippines in 2013. It wiped out almost everything in its path and destroyed 90 percent of the city of Tacloban.
Later on Saturday Mexico's National Meteorological Service downgraded Hurricane Patricia to a category 4 storm.