Lenin pulled to the Dark Side: Revolutionary's statue turns into Darth Vader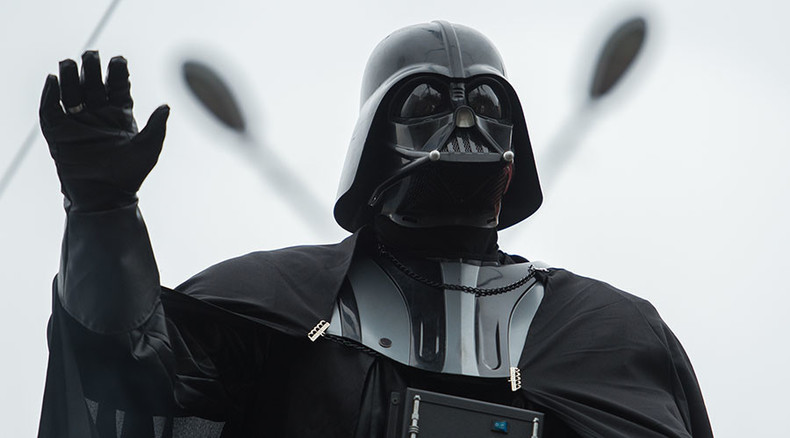 The respect Ukrainians hold for the Dark Lord from the Star Wars films has taken a new turn, as an artist from Odessa has transformed a statue of Lenin into a Darth Vader monument, with a Wi-Fi router hidden under the helmet included as a nice bonus.
The monument, which is located on the premises of an Odessa factory, was modified by Aleksander Milov, a Ukrainian artist, designer, and animator, who took part in the Burning Man Festival in Nevada this year, local news website Dumskaya.net reports. Milov hopes that his new project will attract Star War fans, predicting that recreational zones around the monument won't be long in coming.
With a Wi-Fi hotspot in its head, Darth Vader will not only radiate the Dark Force, but also provide free internet access.
The Lenin statue, which was supposed to have been taken down amid the so-called decommunization process launched by the Kiev authorities, was rescued and restored after requests from the factory staff and local residents.
The statue, which is made of gypsum, had become very fragile over time, so Milov first had to strengthen it with a special paste. He then started dressing Lenin in Darth Vader's clothes.
The new outfit, including a helmet and a cape, is reportedly made of a titanium alloy.
This is not the first time Lord Darth Vader has turned up in Ukraine. He is also the leader of the Ukrainian Internet Party, and ran for president and then for mayor of Kiev and Odessa last year, promising free computer and foreign languages classes to all Ukrainians, as well as a ban on GMO products and a drastic slash in taxes.
With local elections just around the corner, Darth Vader still hasn't given up – his candidacy for prime minister is supported by a petition bearing more than 25,000 signatures.