Valdai Discussion Club talks Middle East cycle of violence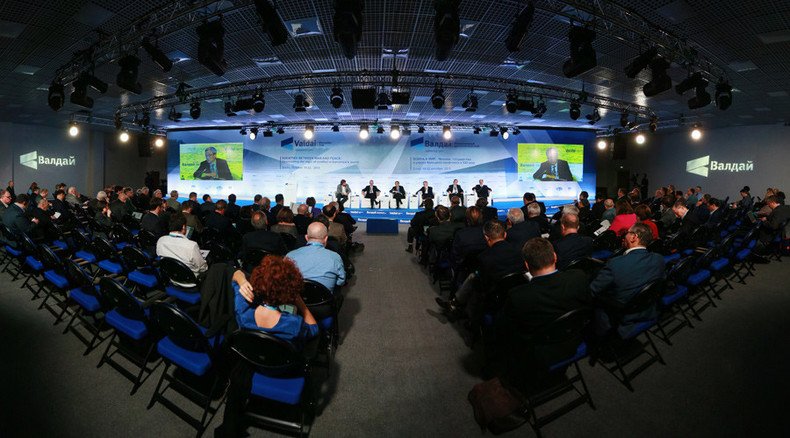 The 12th annual Valdai Discussion Club meeting in Russia's Sochi has focused on international armed conflicts. Russian President Vladimir Putin is taking part in its final plenary session devoted to the crisis in the Middle East.
22 October 2015

21:10 GMT

Russia's presence in Syria is conscious, unlike the propagandistic actions of the US-led coalition, which has done nothing significant, Speaker of the Iranian parliament Ali Larijani said at the final plenary session of the Valdai Discussion Club. "Russian actions are a serious warning to terrorists," he said.

Larijani also praised the role Russia is playing in the region, calling it "effective and responsible.""We thank Russia for its constructive role in Iranian nuclear program talks. If you remember, formula '5+1' was a Russian initiative," he said.

18:05 GMT

Putin said the rouble rate has stabilised despite continuing oil price fluctuations.

"The national currency is subject to certain market fluctuations related to the oil price but, still, it has already stabilised," he said.

17:40 GMT

Putin said the future of Syria must be decided by the Syrians – both the government and opposition forces.

"We must be sure that the government is formed on the basis of transparent democratic procedures. And we can talk about some international oversight over these procedures, including over the elections process. But it must be an objective oversight – and what's most important is that it shouldn't be biased towards some countries."

17:28 GMT

Syrian President Bashar Assad has agreed with the possibility of Russia offering support to the Syrian opposition in their fight against ISIS, Putin said.

"I've asked [Assad]: What would you say if we support the opposition's efforts in their fight against terrorists the way we support the Syrian Army? And he said: My attitude is positive," the Russian leader told the Valdai forum.

17:07 GMT

Russia has no plans to expand its anti-terror operation in Syria to Iraq, Putin said. The possibility of airstrikes targeting Islamic State in Iraq is not being discussed, as Baghdad has not put forward such a request, the Russian president added.

15:17 GMT

Most politicians have become more cautious about interventions, Wolfgang Schüssel, former Austrian Chancellor, told RT on the sidelines of the Valdai Discussion Club. "That is good news because we know the results in Iraq and Libya are not very convincing," he said.

He also pointed out the necessity of closer cooperation between Russia and the West on Syria and other common problems. "Better communication is the key issue. We have still distrust – that is not good," Schüssel said.