'I thought I was going to die:' Arson in Sweden targets asylum seeker center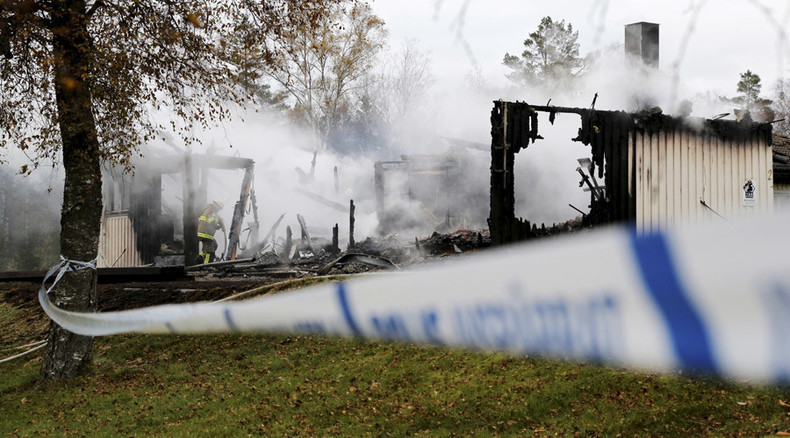 An arson attack on accommodation for asylum seekers occurred in the small town of Munkedal in southwestern Sweden on Tuesday. The act, already condemned by the Prime Minister, is the latest in a string of similar attacks across the country.
The arsonists targeted a building housing 14 refugees. While, no one was injured in the attack, several people suffered from smoke inhalation.
"I thought I was going to die, it was horrible, but now it's OK, I'm safe," a Somalian refugee named Ahmet told Swedish public radio SR, as cited by AFP.
The incident provoked an outcry among Swedish politicians.
"It is very serious," Swedish Prime Minister Stefan Löfven told reporters, as cited by the Local. "It is not the Sweden we want to see," he added.
Foreign Minister Margot Wallström also condemned the attack. "A civilized country like Sweden cannot accept that housing centers for asylum seekers should become prey to arsonists," she wrote on her Twitter on Tuesday.
Amid the growing threat, Swedish authorities decided earlier on Tuesday to keep the location of refugee homes secret.
Arson attacks against refugee accommodations have become quite frequent in Sweden, where there have been 14 other suspected arson attacks on refugee centers this year.

As Sweden has one of the most generous welfare systems in Europe, more asylum seekers have chosen it as their destination of choice this year, owing to the current refugee crisis, than in any year in the past. Prime Minister Löfven said on Friday that the number could exceed 150,000 by the end of the year.
LISTEN MORE: