Riot police clash with squatters refusing eviction in Bologna (PHOTOS, VIDEO)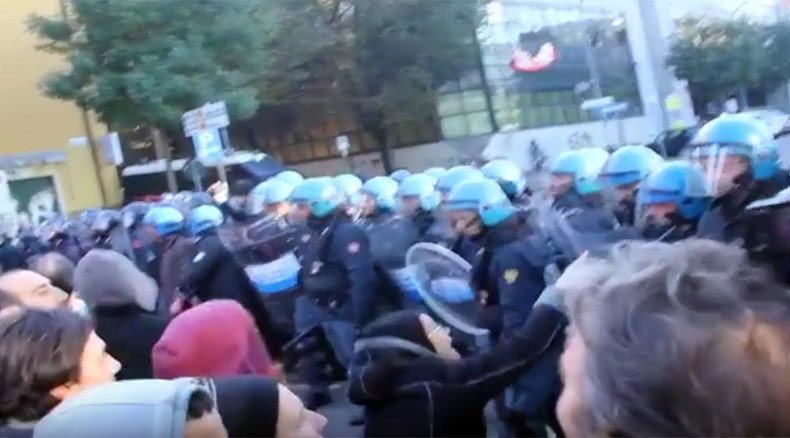 Riot police and protesters clashed in Bologna on Tuesday, as authorities attempted to evict dozens of families from an abandoned former Telecoms headquarters, local media has reported. Some of the protesters were injured.
Police surrounded the building, which has been housing over 250 people, in an attempt to evict the residents.
However, several dozen squatters including minors climbed onto the roof of the building, banging and screaming "no more homeless" and "we will not leave" in protest, local media reported.
Videos from the scene show clashes erupting between the protesters and riot police. The Bologna Repubblica daily reported that two demonstrators were injured and taken to the hospital. One of the videos shows a woman being carried from the building by medical workers.
"They used batons against the mothers," one of the women was quoted as saying by Bologna Repubblica daily. "Shame, here are women and children," she added.
The protesters responded by throwing various objects at police.
According to local media reports, authorities tried talking with the residents first, in an attempt to persuade them that all families with minors would be provided with alternative accommodation.
"The situation got out of hand," however, the president of the Navile district, Daniele Ara, told the paper.
The eviction was requested by the city prosecutor and executed by the police, Bologna's Mayor, Virginio Merola, said, as quoted by the Bologna Repubblica daily. He added that officials have been working with social services to find temporary housing for the families.
"For us it is important not to abandon those in need," he stressed.
The building has been occupied by about 300 people – mostly families with children – since December 2014, according to local media. In March, the local court issued an eviction order for the building, which currently belongs to a private fund.
Meanwhile, a protest in solidarity with the Bologna's squatters was held in Rome on Tuesday. Police used water cannons to disperse protesters blocking traffic at Porta Pia. Several protesters were injured and one was taken to the hospital, local Roma Repubblica daily reported.

Italy has been one of the EU countries hit hardest by the financial crisis that has shrunk its economy. In July, Italy's unemployment rate fell to 12 percent, the lowest level in two years, according to data provided by the national statistics agency, Istat, in September.
You can share this story on social media: