Russian and US oil giants cooperate to save California's historic Fort Ross
Published time: 20 Oct, 2015 04:24
Edited time: 20 Oct, 2015 04:58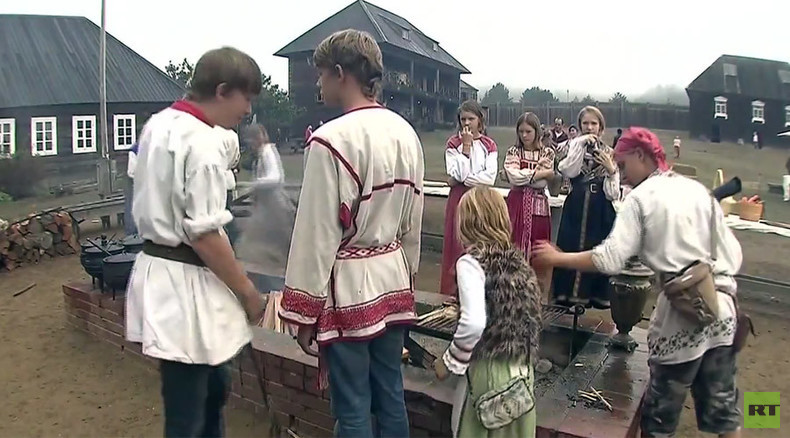 Amid global tensions, Russia's Transneft and America's Chevron oil companies have teamed up in hopes of breathing new life into a landmark of Russian-American heritage, Fort Ross, which has struggled to survive cuts in state government funding.
Fort Ross has stood on the Pacific coast in California for more than two centuries. However, the historic site has been threatened by government cutbacks as of late.
"It was an agricultural base primarily. And it was settled by Alaskan natives and the Kashaya Pomo. And the Kashaya Pomo actually welcomed the Russians. This was the 19th century, so they were colonizers," Director of Fort Ross State Park Sarah Sweedler told RT. "But the thing about the Russians – they had no desire to convert the local people. It was a mercantile arrangement, so it was basically commerce."
With Russian traders and diplomats actively seeking new horizons in the east, Fort Ross was established in 1812 while the US was engaged in an Anglo-American war.
It soon became the biggest Russian settlement in North America and an important epicenter of 19th century Russian-American relations.
Serving as a major trading outpost for the first three decades, Fort Ross was used solely for delivering goods to Russians in Alaska. Moreover, it was a place where many ethnicities peacefully coexisted in one spot.
While Europe was embroiled in the wars and battles of the mid 1800s, Fort Ross saw no military conflicts. The only hint of struggle occurred in the 1830s when local settlers had a confrontation with Mexicans, but the situation was resolved without shots being fired.
The biggest threat to Fort Ross' existence came only several years ago, when former California governor Arnold Schwarzenegger decided to cut spending on State Parks, leaving the site bereft of funding.
"Fort Ross was supposedly on the closure list. Schwarzenegger proposed closing it. It was [Russia's] ambassador Kislyak in Washington who suggested that it not be closed. And he came to lobby for us and basically raise awareness that this was a very important piece of shared Russian and American history," Sweedler said.
The financing provided by California's state government was barely enough to install fire alarms, according to the staff.
Since that time, the historic settlement has only managed to survive through private donations, most of which have come from the two oil giants – Russia's Transneft and America's Chevron.
"Global companies normally have global vision. And for us together with our partners from Chevron it is a very important project to support," Vice President of Transneft Mikhail Margelov told RT. "Since Perestroika we were talking with the Americans about working out positive bilateral agenda. Our politicians are not very successful at achieving that goal. And I think that business people can be more successful."
Transneft also wants to digitize more than 60 million archived items regarding Russian emigration to America.
"The leaders in many countries today build careers on conflict instead of on peaceful and cultural ideas. We would like to change that paradigm a little bit. And by opening up the history books and bringing attention to the relationships of common people we change the dialogue," Nicholas Sluchevsky from the Stolypin Center for Regional Development told RT.
The next big step for the site is to obtain status as a national park, which could finally secure its future.
There is also a new project aimed at digitalizing collections related to Russians in America within the current Fort Ross Conservancy website and making this information universally accessible and searchable.