Christian churches in Indonesia province to be closed over Muslim groups' pressure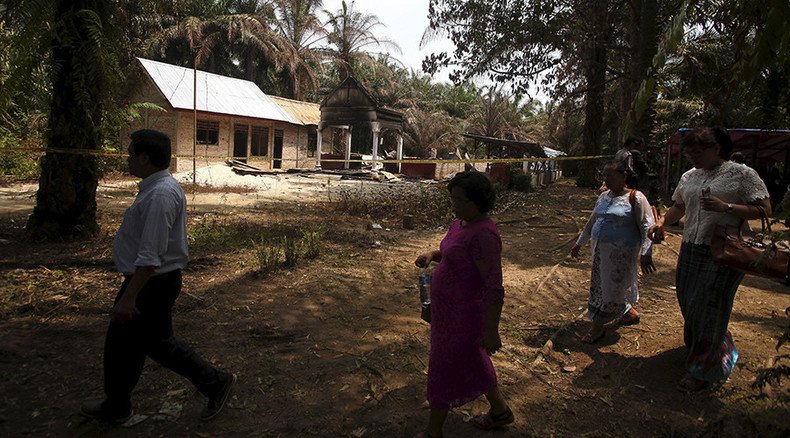 Authorities in an Indonesian province in Northern Sumatra have decided to shut down several Christian churches just days after a church was burned down by a mob and clashes between Christian and Muslims broke out.
Local government in the conservative Aceh province, which has a Muslim majority, ordered 10 Christian churches to be closed down next week after a group of hardline Muslims demanded that they be shut, deeming the houses of worship to be illegal.
"Ten churches have been identified as not having proper permits and should be closed," said Hambali Sinaga, head of the local chapter of the hardline group Islamic Defenders Front, as quoted by Reuters.
He also urged that local authorities implement the measures until Monday and expressed hope that "there will be no violence again tomorrow," referring to recent clashes in the province.
At the same time, local government claimed that it had discussed the issue with the Christian groups and religious leaders in the Aceh province's Singkil district, where the churches are located. According to authorities, members of the local Christian communities admitted that six churches were illegal due to a lack of required building permits and agreed to dismantle them.
"All houses of worship, regardless of the religion, need to be in accordance with the laws of Aceh," Bardan Sahidi, a member of the provincial parliament, told Reuters after the meeting with politicians and religious figures, including officials from the Indonesian ministry of religious affairs.
Local Christian groups did not comment on the situation.
The decision to close the churches was made after a recent escalation in tensions in the province. A mob of Muslim residents including the members of the two Muslim hardline groups called Islamic Defenders Front and the Aceh Singkil Islamic Care Youth Students Association (PPI) burned down a church they deemed illegal.
On Tuesday, as many as 700 Muslims arrived in Suka Makmur village in Aceh province and burned down the local church claiming it was unlicensed due to the lack of permits. One attacker was killed and three more injured when the Christian villagers tried to defend their house of worship
About 500 police and military officers previously deployed to the village failed to stop the attack and arson. Later, they claimed they had been outnumbered, Indonesian Jakarta Post reports.
"We knew [about conflict involving the church] from four months ago. This is why I truly regret the fact that the arson happened," National Police chief Gen. Badrodin Haiti said on Wednesday, as quoted by Jakarta Post.
Indonesian president, Joko Widodo, condemned the attack and called on all parties to halt violence in his twitter.
"Stop violence in Aceh Singkil. Any act of violence, whatever the reasons behind it, not to mention if it is related to religion and faith, will kill diversity —Jkw," he wrote.
The president also ordered Coordinating Political, Legal and Security Affairs Minister Luhut Binsar Pandjaitan and the national police chief to take immediate actions to prevent any further escalation and ensure peace in the province.
According to police, many Christians left their homes and moved to the neighboring provinces fearing new outbreaks of violence with more than 4000 people leaving the area.
"We are still afraid that an incident could occur again if [the situation is] not handled properly," congregation member Silaban said on Wednesday, as quoted by Jakarta Post.
Some 1,300 police and military officers have since been deployed in the area in order to patrol the streets and guard the churches.
"At the moment things are calm but we are on standby for any further incidents," said a spokesman for Aceh police adding that those, who fled the province, returned to their homes.
Most Indonesians practice a moderate from of Islam but the population of Aceh sticks to more strict religious norms making the province the only Indonesian region to implement Sharia law. In 2005, Aceh was granted special autonomy that allowed for the introduction of Sharia law, in order to end decades of violence motivated by separatism.
According to a 2006 statute, church officials are required to provide a list of names and signatures of 90 congregation members and receive written support from at least 60 locals as well as from a village chief in order to get a permission to build a church in Aceh. The first 'unlicensed' churches were closed by the local government in May 2012, Vatican Radio reports.
You can share this story on social media: