Humanitarian catastrophe: UNICEF says 537,000 Yemeni children at risk of malnutrition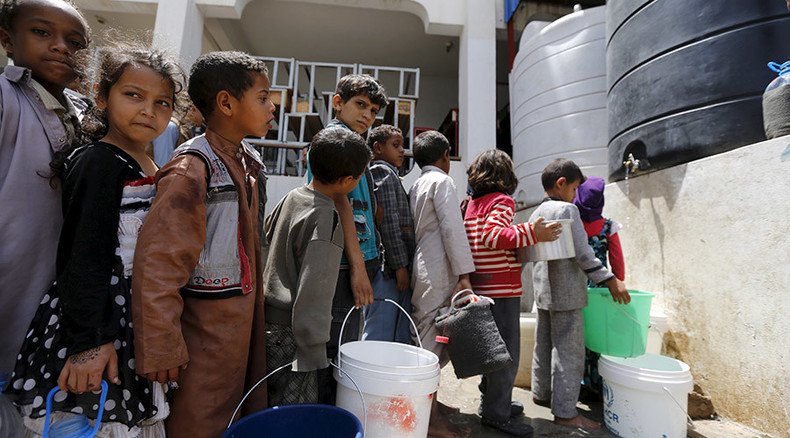 The humanitarian situation in Yemen is reaching disturbing proportions, with half a million children now facing life-threatening malnutrition and imminent famine, according to a senior UNICEF official.
An announcement made on Friday by the organization represents a three-fold increase in numbers of those not receiving enough food since fighting began in March. Afshan Khan, director of the UN Children's Fund's emergency programs worldwide, told Reuters Friday that "We are facing the potential of a huge humanitarian catastrophe… The levels of malnutrition that are being reported for children are extremely critical.
"A nutritional survey will be done at the end of October. How close are we to a famine declaration? We see some zones that are worse than others," she confirmed.
The World Food Program (WFP) has been ringing the alarm over the situation since the summer. Some 13 million people have not had access to adequate food, six million of which were in a particularly difficult situation. The number of children under five facing severe acute malnutrition continues to grow.
Currently the figure stands at 537,000, with visible bodily changes; another 1.3 million are moderately malnourished, latest UN figures claim.
Fewer than one in five feeding centers are functioning in the country. But even with UNICEF programs being set up, the situation isn't likely to get better soon, as some of the existing centers are in Al-Qaeda-held regions – such as the eastern province of Hadramawr. The agency operates 43 mobile screening teams that monitor malnutrition.
Saudi Arabia has been battling Houthi rebels in its support of the exiled Yemeni government. Violence has been ongoing since late March, with barely any halt in hostilities – a fact that has rendered most humanitarian efforts almost useless, sinking the country into further oblivion and displacing an estimated 10 percent of Yemen's population, of about 23 million people.
The conflict is seen by observers to largely be a proxy war between outside forces loyal to Sunni monarchies and those on those on the Shia side, like Iran, which are strongly opposed by the Western powers.
The death toll has climbed to 5,400 people in one of the poorest Arab countries. The figure includes at least 502 children, according to UNICEF.
READ MORE: Hunger kills 3.1m children every year – report
Despite both sides being blamed for not placing the population's security first, the Saudi-led bombings haven been causing untold collateral damage, and contributing to the deadly food shortages, while the Kingdom has completely blockaded commercial vessels from reaching the country. Before the conflict started, 90 percent of all food was imported, which is plunging Yemen to the brink of starvation.
The UNICEF emergencies director explains that the agency is only "allowed small passages of goods where the papers are clear. We have been unable to sufficiently replenish medical supplies." The same goes for fuel – which affects multiple sectors, including the grinding of grain in the mills.
"Humanitarian access is getting more and more difficult ... We hope fuel imports are restored so the cold chain (for vaccines) is re-established and sufficient fuel is available for running water treatment," Khan said.
A glimmer of hope for the country is the Saturday invitation from the United Nations the Saudi-backed govenrment has received to sit down for more peace talks - something the country has failed at over and over again.
"The Yemeni government confirms that we're always ready for and committed to peace," spokesman Rajeh Badi told Reuters.
"We value the role of the United Nations and thank its special envoy to Yemen, who has exerted great efforts toward achieving a peaceful resolution," he said, giving a 48-hour time frame for responce.
The Houthi rebels have not responded as of yet.
LISTEN MORE:
You can share this story on social media: