'They teach kids to stab Jews at school' – claims Israel's new UN envoy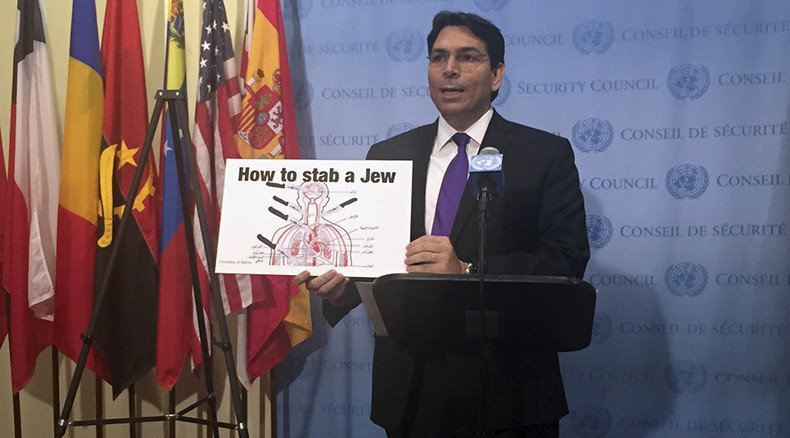 Israel's newly appointed ambassador to the UN has accused the Palestinian authorities of teaching children in schools how to more effectively stab Jews. He has presented an instructive picture, which is circulating around social media to prove his point.
Speaking ahead of a UN Security Council meeting that gathered to discuss the ongoing escalation of violence in Israel, Danny Danon accused Palestinians of "incitement and hate" against Israel. He used a diagram of the human body with its circulatory system, showing the points where a stabbing would inflict most damage and titled 'How to stab a Jew', as a prop.
READ MORE: Israeli stabs another Jew by mistake, trying to avenge wave of Palestinian stabbings
The picture is one of many currently circulating in the Arab-language social media in support of a string of stab attacks, which occur almost daily in Israel and was dubbed by some as a 'knife intifada'. However, Danon claims the picture is part of a school curriculum for Palestinian kids.
"We talk a lot about incitement – here you see what Palestinian incitement looks like. The picture is being taught in middle schools, in high schools, in elementary schools. Instead of educating about peace and tolerance, the Palestinian leadership is brainwashing children with incitement and hate," he said.
Danon said that the picture is "an example of what Palestinian children are being exposed to day in and day out, in school and after school.
"Palestinian leaders have established an incubator to raise children as terrorists," he said.
A former MP from the center-right Likud party, which is headed by Israeli Prime Minister Benjamin Netanyahu, Danon was appointed as the country's envoy to the UN in August, replacing career diplomat Ron Prosor after a four-year tenure. The decision was criticized by many in Israel, as critics see Danon unfit for the delicate job of defending Israel's interest at the international body that is far from being sympathetic to the Jewish state.
Danon fiercely opposes a two-state solution for the Israeli-Palestinian conflict and defends the Israeli policy of settling in occupied Palestinian territories to the point of blaming Netanyahu of being too slow about the process. The prime minister even sacked Danon as deputy defense minister during Operation Protective Edge last year because he criticized Netanyahu's decision to strike a truce.
Danon previously issued a mock apology for the killings of nine people during an Israeli Defense Forces raid on a Turkish ship, Mavi Marmara, in 2010, which tried to break through an Israeli naval blockade of the Gaza Strip. In a letter to the Turkish Prime Minister Tayyip Erdogan he wrote he was sorry that "only nine terrorists were killed in self-defense by our soldiers" and lamented that the Israeli soldiers didn't get an order to act "with a much larger show of force" and sink the boat.
A political joke in Israel claims that Netanyahu's selection of Danon is meant to demonstrate how much he hates him and the UN, according to the Haaretz newspaper.
But in an interview with The Algemeiner, Danon insisted that his personal views would not affect his performance.
"When I accepted this position, I understood that I would be representing the position of the Israeli government," he said. "Not my personal beliefs."
LISTEN MORE:
You can share this story on social media: