Putin: I don't get how US can criticize Russian op in Syria if it refuses dialogue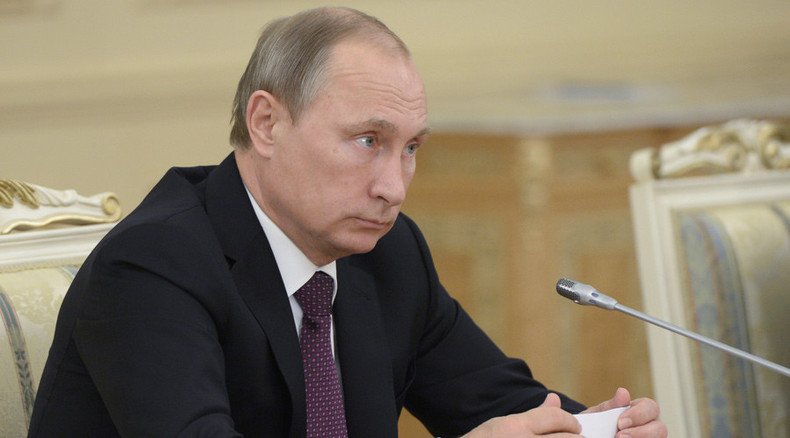 Washington's decision to obstruct Russia's call for diplomatic engagement on Syria is unconstructive and apparently shows a lack of will to negotiate, Russian President Vladimir Putin said.
"I don't really understand how our American partners can criticize Russia's counterterrorism effort in Syria while refusing direct dialogue on the all-important issue of political settlement," Putin explained.
Putin was commenting on the refusal by the Obama administration to receive a Russian delegation headed by Prime Minister Dmitry Medvedev to discuss the differences the two nations have on the Syrian crisis. The US said it would not talk unless Russia followed Washington's lead and stopped helping the Syrian government of President Bashar Assad.
"I believe this position to be unconstructive. The weakness of this position is apparently based on a lack of agenda. It seems they have nothing to discuss," Putin said at a meeting with the Kazakhstan president in Astana.
READ MORE: US refuses to receive PM Medvedev's delegation to coordinate anti-terrorist actions in Syria

He added that by obstructing Russia's invitation to negotiate the US undermines itself, as it voices criticism of Russia's actions in Syria, but doesn't seek ways to resolve its concerns.
Russia this month launched a bombing campaign targeting terrorist forces in Syria at the invitation of the Syrian government. The goal is to curb the violence sufficiently for a political dialogue to start in the war-torn country.
Washington wants the Syrian government to fall, hoping that so-called 'moderate rebels' will fill in the vacuum. It accuses Russia of bombing those supposed moderate forces instead of hardcore jihadists, an allegation that Moscow denies.
LISTEN MORE:
You can share this story on social media: