Closer to NATO standard: Ukraine's Poroshenko flies on modernized Su-27 fighter jet (VIDEO)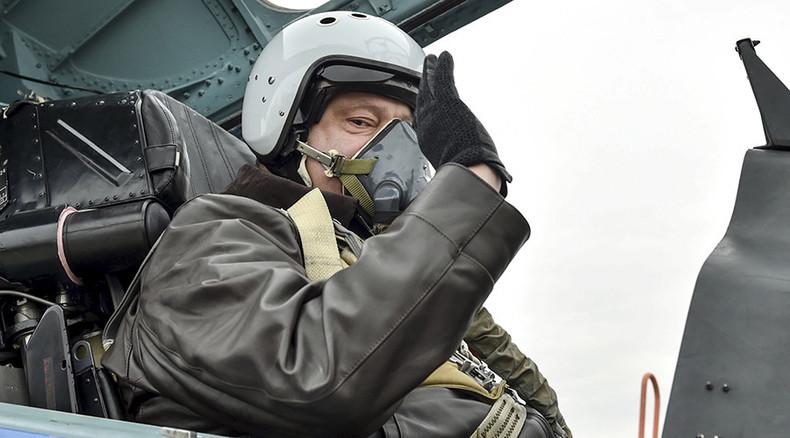 Petro Poroshenko, President of Ukraine, has flown on a Su-27 fighter jet, according to a video released Wednesday on the leader's official website. The jet had been undergoing modernization in order to ensure that it complied with NATO standards.
Wearing a pilot jacket, helmet and air mask, Poroshenko gives a somewhat Gagarin-style wave of the hand as the blue jet slowly turns towards the runway for takeoff, the video shows. The president assumed the position of the second pilot for the test flight.


Poroshenko was visiting the Zaporozhie region, where state aviation repair plant, MiGremont, had modernized two Su-27 jets to improve their efficiency in battle missions, as required by NATO standards. According to the press release, MiGremont is currently working on modernizing both Su-27 and Su-25 jets.

Sukhoi Su-27 jets, introduced back in 1985, are twin-engine super-maneuverable fighter aircraft developed as a direct competitor to US fourth-generation fighters. They are primarily employed by both Ukrainian and Russian militaries.

The flight apparently inspired Poroshenko, who gave a satisfied salute to onlookers as the plane landed. After that, the jet – together with another Su-27 – was handed over to the Ukrainian air forces.
READ MORE: 36,000 troops, 200 aircraft & 60 vessels: NATO launches biggest war games in 13 years
Kiev has been hoping for closer ties with NATO since relations with Russia went rapidly downhill after the Maidan revolution in February 2014 – an event which lead to Crimea's secession and crisis in eastern Ukraine.

However, in September Poroshenko admitted that neither the country, nor the alliance is ready for full NATO membership.