Kerry links Israeli violence to settlement building, Israel seals off Arab E. Jerusalem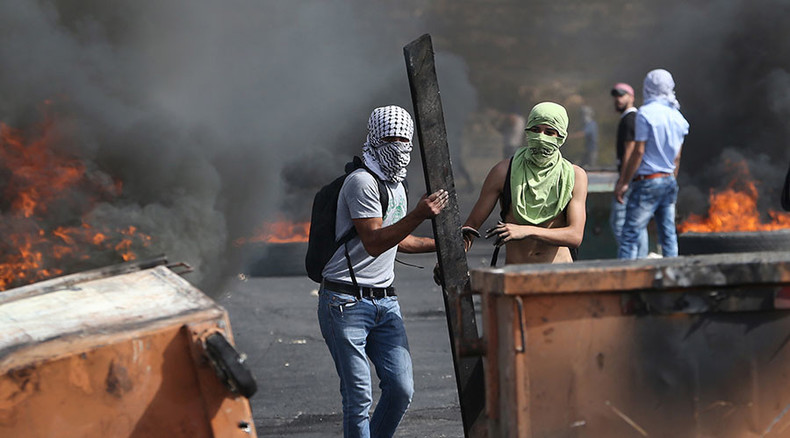 US Secretary of State John Kerry has linked the growing violence in Israel to "frustrations" amongst Palestinians, exasperated at the "massive increase in settlements" built by the Israeli government.
"There's been a massive increase in settlements over the course of the last years," Kerry said during a visit to Harvard University, "and there's an increase in the violence because there's this frustration that's growing."
The US diplomat added that hopes of a two-state solution could be fading away and mentioned he will visit the region in the near future to try and calm the situation and move "away from this precipice."
"I will go there soon, at some point appropriately, and try to work to reengage and see if we can't move that away from this precipice," the Secretary of State said.
Israeli Prime Minister Benjamin Netanyahu has introduced a series of punitive measures against the Palestinians to try and quell the violence. During an emergency Security Council meeting which went on into the early hours of Wednesday morning, he announced that Israeli Defense Forces (IDF) soldiers would be sent to reinforce police units across the country.
The police are "authorized to impose a closure on, or to surround, centers of friction and incitement in Jerusalem, in accordance with security considerations," a statement from the Prime Minister's Office read.
IDF prepares to deploy 6 companies to reinforce police. They're expected to join police forces today.

— IDF (@IDFSpokesperson) October 14, 2015
The cabinet also authorized closing off Palestinian neighborhoods in East Jerusalem, making it harder for Palestinians living there to enter Israel. Unlike fellow Palestinians living the West Bank, those in Jerusalem do not face any restrictions when trying to enter Israeli territory.
However, Human Rights Watch has hit out at the move, saying it will do nothing to improve the situation.
"Locking down East Jerusalem neighborhoods will infringe upon the freedom of movement of all Palestinian residents rather than being a narrowly tailored response to a specific concern," the organization said in a statement.
The status of Jerusalem is vital for both Palestinians and the Israeli's. Palestine sees East Jerusalem as the future capital of a Palestinian independent state, which would also include the West Bank and the Gaza strip. Meanwhile, Israel views the whole of Jerusalem as its undivided capital.
The Security Council gave the go-ahead for security forces to demolish the houses of Palestinian terrorists, as well as confiscating their property and the revoking of the permanent resident status of East Jerusalem Arabs involved in attacks
"Israel will settle its accounts with the murderers, with those who try murder and with those all those who assist them. Not only will we revoke rights from them; we will exact the full price," Netanyahu told the Knesset, as cited by the Times of Israel.
Mustafa Barghouti, of the Palestinian National Initiative told RT that the latest rise in violence is not a fight between Hamas and Israel, rather it a 'Palestinian spring,' by a disenfranchised youth.
"This is a struggle of young Palestinian people against oppression and occupation. These are mostly independent young people who are sick and tired of oppression, of humiliation, of poverty and unemployment. This maybe can be called the youth 'Palestinian spring' against occupation," he said.
A 'Day of Rage' was announced by both Fatah and Hamas on Tuesday, leading to three Israeli deaths and around 30 injuries.
A spate of stabbing incidents took place in Jerusalem and the Tel Aviv suburb of Raanana. Two Palestinians shot and stabbed passengers on a bus in the Israeli capital, killing two and injuring four, police said. One of the assailants was killed and the other captured.
Minutes later in Jerusalem, a Palestinian rammed his car into a bus stop in an ultra-Orthodox Jewish neighborhood of the city, police said. A surveillance video showed him then hacking pedestrians with a cleaver until he was shot dead by a passer-by. One of the Israelis he attacked died and six others were injured, police said.
LISTEN MORE: