Japan threatens to cap UNESCO funding because of Nanjing massacre documents
Tokyo has warned UNESCO that it may stop providing funding for the UN body because it included Chinese documents concerning the 1937 Nanjing massacre into its Memory of the World list.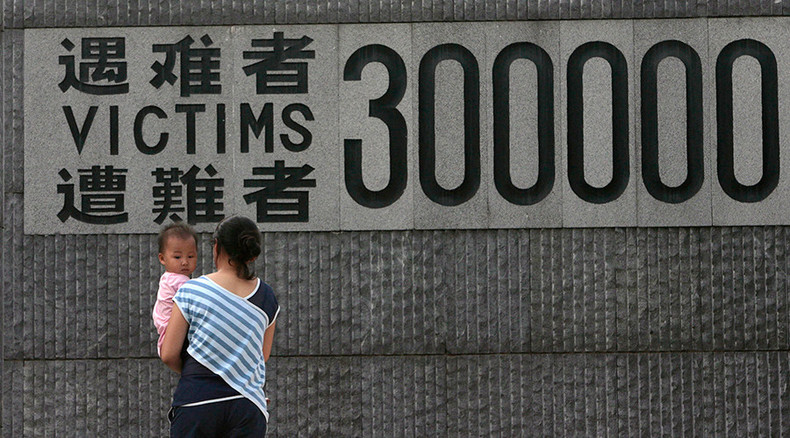 "We are considering all measures, including [the] suspension of our funding contributions to UNESCO," Chief Cabinet Secretary Yoshihide Suga said on Tuesday as cited by the Guardian, adding that "there is a big discrepancy of views between Japan and China, and the decision reflecting a unilateral view turns the issue into a political problem."
From Suga's point of view "the decision-making process lacked transparency". "We were not even allowed access to the contents of the Chinese documents," he said.
Irina Bokova, UNESCO Director-General, included Chinese documents concerning the 1937 Nanjing massacre into the Memory of the World list last on Friday – an action which provoked Japan's backlash.
"It is extremely regrettable that a global organization that should be neutral and fair entered the documents in the Memory of the World register, despite the repeated pleas made by the Japanese government," the Japanese Foreign ministry said.
Japan has questioned the veracity of the submitted documents and believes that China has attempted to use international culture as a political tool. China dismisses Japanese charges.
"The facts are not to be denied. History is not to be falsified. What the Japanese side has said and done once again revealed its reluctance to face history squarely, which is wrong," Hua Chunying, a Chinese foreign ministry spokeswoman said in a statement cited by the Guardian.
Japan donated about $31 million to UNESCO in 2014 – some 10.8 percent of the organizations budget, according to the Japanese Foreign Ministry.
The 1937 Nanjing massacre was the mass killings of Chinese civilians – committed with extreme violence – by Japanese soldiers after the fall of Nanjing, which had been a Chinese capital.
According to Chinese estimations Japanese soldiers killed about 300,000 people in Nanjing from December 1937 to January 1938. Japan believes that the number of victims is highly exaggerated.
You can share this story on social media: