Dramatic footage shows Palestinian shot dead after stabbing 2 Israeli officers (GRAPHIC VIDEO)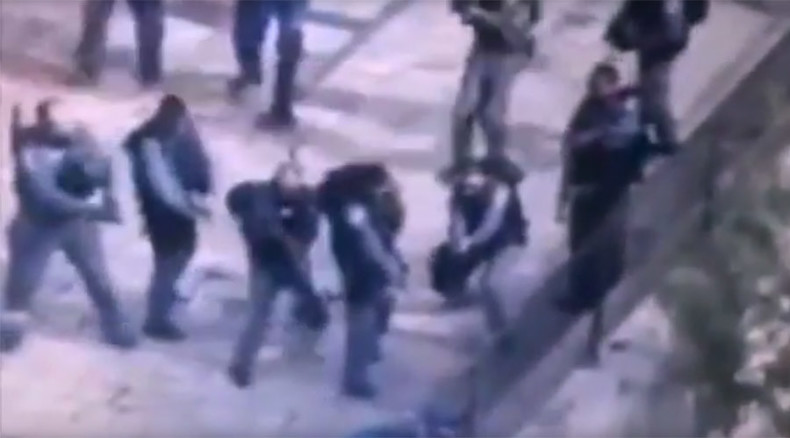 A video has emerged showing the moment a19-year-old Palestinian stabbed two Israeli security officers in Jerusalem. The man was subsequently shot dead by police in the vicinity.
GRAPHIC & DISTURBING FOOTAGE
The incident took place near the Damascus Gate, in the Old City. Police approached the teenager, who they believed was acting suspiciously and asked him to hand over his ID for inspection.
"After handing over his ID card, the terrorist stabbed one of the officers in the neck and another one in the upper body," police spokesman Micky Rosenfeld was quoted as saying by the Jerusalem Post, which also obtained footage of the incident.
"Police nearby shot and killed him, and a third officer was lightly wounded when he was accidentally struck by one of the bullets," he added.
The officers were immediately taken to the hospital, with Rosenfeld saying their condition was between moderate and serious.
The 19-year-old was one of three Palestinians shot dead by Israeli police on Saturday in Jerusalem after attacking the police with knives.
On Sunday, a Palestinian female motorist detonated a bomb she was carrying after being pulled over by Israeli police in the occupied West Bank, wounding herself and an officer, police said, as cited by Reuters.
Meanwhile, a civilian woman and her three-year-old daughter were killed as her family's house collapsed during an Israeli Air Force strike on the Gaza Strip.
There has been a surge in violence over the last week with Israeli security forces cracking down on Palestinians. So far 23 Palestinians have been killed, while four Israelis have lost their lives since the start of October.
LISTEN MORE: