Combat report: Russian jets strike 53 ISIS targets in last 24 hours (VIDEOS)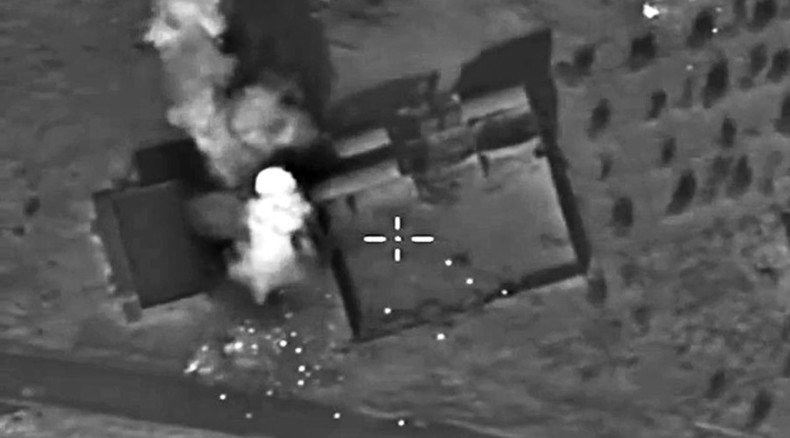 The Russian Air Force has carried out 55 sorties in the last 24 hours, hitting 53 Islamic State targets in four Syrian provinces and destroying command posts, terrorist training camps and a transfer point, among others.
Sukhoi Su-24M and Su-34 bombers, together with Su-25SM ground support aircraft, bombed ISIS positions in the provinces of Idlib, Latakia, Homs and Hama, the Russian Defense Ministry's spokesman, Igor Konashenkov, told journalists.
The airstrikes destroyed seven command points, six training camps, six arms depots and a stronghold near the village of Salma in Latakia province.
Russian aircraft have also attacked 24 of the terrorists' fortified strongpoints, along with weapons and vehicles stored there.
"Over the last day, Russian warplanes have also eliminated a convoy of terrorist vehicles, a mobile mortar gunnery team and three underground bunker systems," Konashenkov reported.
READ MORE: Best of RT's coverage on Russia's air campaign against ISIS in Syria (VIDEOS)
A Sukhoi Su-25 ground-support fighter jet, using reconnaissance data obtained by drones, bombed a mobile mortar battery in the Hama province, wiping out three SUVs with mortars mounted on them and a truck of munitions.
Also in Hama province, a Sukhoi Su-24M deployed a guided KAB-500 air bomb and destroyed an Islamic State fortified command post.
"A pinpoint strike demolished all [engineering] installations of the terrorists," Konashenkov reported.
The convoy eliminated near the town of Sukeyk north of Hama consisted of three petrol tankers, a large truck and two SUVs with heavy machine guns mounted on them. All the vehicles have been destroyed.
RT EXCLUSIVE: Report from the frontline where Syrian troops are fighting ISIS
A group of Sukhoi Su-24M bombers has hit a large transfer point of Islamic State terrorists in Latakia province, striking the target with high-explosive air bombs, which caused a fire at the installation equipped with underground facilities. The fire caused munitions stored at the facility to detonate.
The target was completely destroyed, Konashenkov said.
An airstrike on a terrorist target near the village of Al-Mastumah in Syria's northern Idlib province destroyed an Islamic State installation used as a transfer point for militants coming to Syria from other countries.
LISTEN MORE:

You can share this story on social media: